College visits: University of Michigan
On Oct. 7, Lindsey Taggart and Leila Boudalia, Admissions counselors at the University of Michigan, visited CHS. Neither went to the University for school and both were drawn to it for different reasons, but both for work. Boudalia grew up in the Ann Arbor area and went to Eastern for both high school and college. She is a recent graduate and the job really presented itself. Taggart grew up in Buffalo, New York and went to college at a small liberal arts school in Ohio. Her husband recently got a job here, she had worked at admissions at her school in Ohio, and there was an opening at the admissions office, it was all about timing.
When presented with the question "What is your favorite part about your job at admissions?" Both had similar answers,
"I really like the more intimate student meetings, like a one-on-one student meeting. I am just coming into this office and am still learning. But as I slowly get to meet more students, I get to learn about their background," Boudalia said.
"My favorite part about working at the university is just getting the opportunity to not only work with high school students but help them figure out if Michigan is going to be the best fit for them, and if it is, help them navigate through the process," Taggart said
The U of M is a Big 10 university in Ann Arbor, Michigan. The university is right in the center of the town, which creates no borders with being in Ann Arbor verses being on the university campus. The U of M creates a lot of intimidation when applying to the school, as it appears as a university that is almost impossible to get into. Taggart wants the process to be as easy as possible for potential students.
"Students think that Michigan is an unattainable school for them, it appears to be the school that nobody gets into. So helping students realize that yes Michigan is an attainable school for them to get into, and let's talk about our process, and how you can be competitive," Taggart said
About the Photographer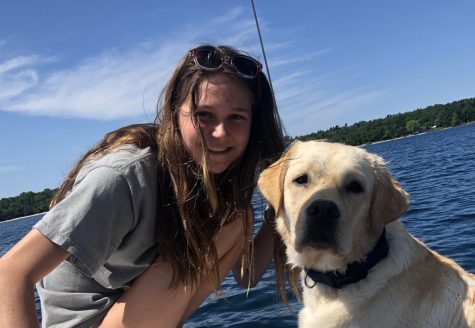 Linnea Verhey-Henke, Journalist
Linnea Verhey-Henke is a junior and this is her first year on staff. In her free time she enjoys working at argus farm stop and playing with her dogs. When it's nice out she enjoys setting up her hammock in the diag and reading. Her favorite place on earth is her grandparents cottage in Northport, MI.