"DHL" and "In My Room"
Contemporary pop, R&B, and hip hop fusionist Frank Ocean stepped back into the light with two new singles in 2019. "DHL," released Oct. 19, and "In My Room," released Nov. 2. Both songs debuted respectively on "blonded RADIO," Ocean's Beats 1 radio show. The cult-status icon is infamous for leaving his fans without new music, and "DHL" was the artist's first original track since "Provider" released in August 2017.
The track "DHL" kicks off with a dark, wavy synth melody backed by a deep bass and slow-hitting drums. The intro features heavily modulated vocals from Ocean, one of the many modern production techniques seen throughout the song. As the first verse sets a laid-back tone, layers of reverb and delay create a building tension. This is accentuated by emerging siren-like samples, and after the chorus ends, the beat switches. With a brighter synth and the drums smoothed out, the vibe takes an upward turn. For the remainder of the song, Ocean raps about his wealth, drug use, and rather libertine relationships.
"In My Room" is a much more straightforward track, featuring an upbeat tempo and heavy trap-influence. The melody uses a synth similar to the one used in "DHL" but is much pluckier and sees a lot more movement. As the song begins, the drums slowly fade in leading into the first verse. Ocean is braggadocious, dropping lines on jewelry and his excessive spending. Lines like "Richard Mille, look at my ears, flooded with diamonds" and "Every night you were in my room" encapsulate what Ocean is most concerned about: money and sexual relationships. After a short bridge, there is a catchy chorus/outro, and the brief 2 minute 14 second track comes to a close.
Frank Ocean's return has excited fans and quieted those questioning his musical prowess. These new releases allude to an upcoming project and Ocean will definitely be a name to lookout for the remainder of 2019.
Leave a Comment
About the Contributor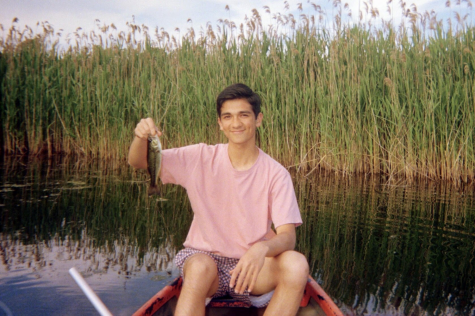 Samuel Dannug, Journalist
Samuel Dannug is a senior at Community High School and this is his first year apart of The Communicator. Although some might consider him a newbie, Sam is eager to publish his writing, opinions, and most of all, cool page designs. When he's not messing around in InDesign, he's listening to music, playing different sports, or hanging out with his friends and family.