"Norman F*****g Rockwell" album review
"Norman F*cking Rockwell!" is the sixth studio album by indie singer Lana Del Rey. The album was released on Aug. 30, following singles such as "Mariners Apartment Complex," "Venice B*tch" and a cover of Sublime's "Doin' Time." The immediate and most drawing aspect of the album would be its interesting title, to say the least. The title is a direct reference to 20th-century artist Norman Rockwell, with a "F*cking" added in for counterculture crassness. At first glance, the title looks like a typical jumble of euphonious words to seem "artsy" (Tranquility Base Hotel and Casino anyone?). Rockwell's art and life are never directly mentioned in the album. His name is only sung once in "Venice B*tch," in a verse where someone — presumably Rockwell — paints Del Rey blue. In the first track, also called Norman F*cking Rockwell!, Del Rey sings about her man —a topic she covers frequently. The entire song does not contain the words "Norman Rockwell" except for in the title. This is odd for something so pivotal as the first track and the literal title of the album. It seems very out of place. 
However, this isn't the case. For years, Del Rey has sung about various aspects of American culture and history. Her music has roots in the hippie movements of the 1960's, with callbacks to singers such as Bruce Springsteen and Lou Reed. You can almost see the California beach and Chateau Marmont. She has sung about everything from beat poetry to Jonestown, but all of her references and name-drops are a staple of her music. Her whole aura is one of old Americana. With her new album, Lana seems to have picked a catalyst for this phenomenon. Norman Rockwell is, in fact, a metaphorical representation of the whole of American culture.
The American Artist
Rockwell is infamous for being "The American Artist." He is known for his portraits of everyday life and for capturing the spirit of small-town America on the canvas. Rockwell was the quiet observer of a tumultuous 20th century, recording American history. He was known for his portraits of Ruby Bridges, Rosie the Riveter and various presidents. His work is so deeply rooted in the idea of 20th century America that he is often considered a literal symbol of it. 
In her new album, Lana continues with the American symbolism, but here it seems to finally have a name put to it. Lana's music is not just pointless "reference dropping;" it is a poetic and critical look at American culture as a whole. The references add depth, nuance, and intelligence to all of her songs. Today, pop music can be described as "shallow," but Lana's cultural awareness provides dozens of layers of meaning to comb through, leaving a thought in the heads of her listeners along with a spring in their step. In this way, she really is the next best American songwriter. 
Hidden Feminism
Another notable element of Lana's music is its focus on romance. Nearly every song is a romantic aria where a lover is the main focus. While this isn't uncommon, Lana's music takes it to a customary point. It's a symbol of her music. Lana sings about dysfunctional, unhappy relationships where she, as the woman, has to keep quiet. Her lyrics are pouty and submissive; she sings about her man and the power he has over her. In an age where robust, 'don't need no man' feminism dominates music, Del Rey doesn't fit in. At first glance, she seems to be dragging on detrimental gender roles from decades prior. Her music seems to incorporate the bohemian style of the 60s, but also its twisted standards for women. On the contrary, this isn't true. Del Rey's music is overly saccharine. It's overly sexual. It's over the top. It's satirical, but not in a comedic way, instead her music plays into these tropes so much it deconstructs them. The oversaturation of these themes reveals how preposterous and toxic they are. Lana's music bombards you with this idea of the obsequious but melancholy female, forced into unhappiness by society's expectations of her. 
In "Bartender," Lana sings from the perspective of an unhappy, middle-aged, Malibu woman who runs off with a bartender. The poignant twists come when Lana sings the line "I'm not drinking wine," showing that this woman was running away from her unhappiness at her own volition. The song has the quiet undertones of feminism, that women can make their own choices and can reverse their situations. The song "Happiness is a Butterfly" provides a darker insight into society's impact on women. Del Rey sings about how happiness is a butterfly and how she spends all her efforts to catch it but never can. The chorus contains the lines "If he's a serial killer, then what's the worst that could happen to a girl who's already hurt?" This is a commentary on unhealthy codependency. Ultimately, her music is a commentary on our culture's toxic attitude towards female depression.
The whole of the album seems to culminate into one, chilling final song titled "hope is a dangerous thing for a woman like me to have – but i have it." The song encompasses the spirit of Lana's new album and her music. The song is manic, frantic and tormenting (24/7 Sylvia Plath). Lana is once again a very depressed middle-aged woman, worn down by the vapid life society has given her. All of the lyrics lean towards the song's principal line: "hope is a dangerous thing for a woman like me to have – but i have it." This sentiment is one of hope. It is dangerous for women to have hope: to have aspirations beyond the things expected of them. It is dangerous to be a woman who is unhappy: to be a woman who is depressed. It's dangerous, but it's real, and this final song it a call to address it. In the slow bridge of the song, Del Rey sings: 
There's a new revolution, a loud evolution that I saw
Born of confusion and quiet collusion of which mostly I've known
A modern-day woman with a weak constitution, 'cause I've got
Monsters still under my bed that I could never fight off
Here Lana is talking about the new revolution of feminism. She has seen and experienced the things they are fighting against. She describes herself as "a modern-day woman with a weak constitution" because of her constant focus on men. Maybe this is her way of recognizing the initially problematic aspects of her songs. In the end, it's this hope that is a catalyst for change – that feminism is coming to save others from her same fate. 
Overall, "Norman F*cking Rockwell!" is definitely worth the listen and the references are definitely worth the Google search. The album is a profound take on America's culture. It also has far-reaching messages about feminism and unhappiness in women. Lana's music provokes deep thoughts about American culture and the sexist roots that weave through it. 
Leave a Comment
About the Writer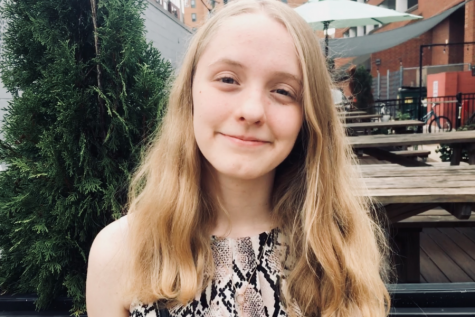 Sophie Fetter, Journalist
Sophie Fetter is a senior at Community High School. This is her second year on The Communicator. She thinks writing is both very challenging and very rewarding. Sophie enjoys drawing, animation, interesting conversations, listening to music, and reading. She hates greed, ungratefulness and unwaxed dental floss. Sophie spends a lot of time watching her pet betta fish, Mareanie. She also runs the Community High Philosophy Club.