Harper Murray: 14-year-old prospect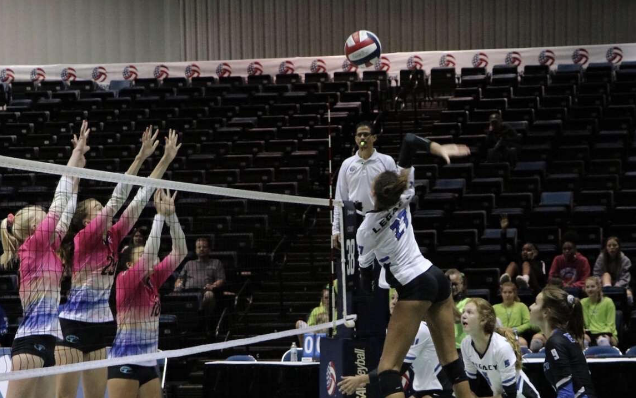 Harper Murray received her first college offer in the 6th grade. Since then, she has become a highly recruited player while still in her freshman year of high school. 
"A lot of my coaches told me it was my athleticism, ball control and ability to already do and know so much," Murray said. 
Murray has been playing volleyball since a young age but found her love for it in seventh grade. She was taller, faster and smarter than the girls around her.
"That's when I realized I was very good for my age, and I could actually have a future in it [volleyball]," Murray said. 
Her height still plays a role in her playing ability and allows her to have a competitive edge. In middle school, most of the girls were her height, but she has found herself above the competition in more ways than one. 
Murray and her sister, Kendall Murray, play on club teams and for their high school. Skyline High School is ranked 12th in the state and is undefeated in league play. 
"This high school season I think I've had a little more pressure than I would in a club because I'm playing with my sister this year who is playing college, and so I think I've had to step up more," Murray said. "But sometimes I like pressure because personally, I think I play better and perform at my best under pressure intense games."
Though Murray got her first offer in sixth-grade, she didn't officially start talking to colleges till eighth grade.
"Michigan was my first offer. That one I got sometime in March and then after, I got offers from Michigan State, Northwestern, Texas, Penn State and Nebraska," Murray said. Her sister, Kendall, has committed to play at the University of Michigan next year. "Sometimes, we will argue about stupid things because we try and coach each other, and we are always together, but I think it's good for us to learn from each other because we are both very competitive," Murray said.
 The two sisters tend to argue, even getting into arguments during games and practice.
"She told me I needed to work on my passing at practice, and so then we started doing a passing drill, and every time she passed the ball, I would comment and tell her to work on it and rate it," Murray said. 
After college, there are professional paths athletes can take. The U.S. women have won the last three Olympic gold medals and five of the nine medals awarded at the past three Olympic Games.
"I would love to play professionally after college," Murray said. 
Harper Murray has made a name for herself, and she is still just a freshman. If she continues to perform at the level she is at for years to come, nothing can stop her.