"Norton Commander"
Low, radiating synth undertones the steady drum beats and trill plucks of the guitar in Men I Trust's "Norton Commander (All We Need)." The almost minute-long introduction lays the foundation for lead singer Emma Proulx's delicate vocals.
Proulx's vocals in "Norton Commander (All We Need)" almost seem like a hidden Easter egg. So soft and faint, her voice encourages the listener to pay close attention, or they will miss the echoey endings of each word she sings fade back into the underlying synth. The song has very few lyrics, as the majority of what Proulx sings ends up being the simplistic chorus of "it's all we need." Proulx steeps the lyrics in her vocals, geniusly intertwined with the instrumentals her trio-mates have set up for her. Gradually, she sings:
"My friend, you know you had your time awhile/ 
But I'm willin' to give you mine/ 
Few things we both have keep us alive/
My life and our true love is all we need/
All we need." 
"Norton Commander (All We Need)" was released May 14, 2019 as an early preview of Men I Trust's album "Oncle Jazz." The trio, comprised of Proulx, Dragos Chiriac and Jessy Caron, hails from Quebec, Canada. Chiriac and Caron were friends from highschool, and started creating together when they reunited in college. In 2015, lead singer Proulx joined them to establish the trio. 
Men I Trust were invited to play at Tyler, the Creator's musical festival, Camp Flog Gnaw in 2018 after the hip-hop/rap superstar reached out to the Canadian trio via Instagram. The alternative group's reputation then flourished, gaining them a performance spot at one of the biggest musical festivals in the country, Coachella, in the spring of 2019.
In an interview with The Office Magazine, Proulx and Chiriac describe the supportive network of artists in the Montreal scene and the influence it has had on their music. "Honestly in real life, it's super cool, like we're Canadian, we're close to nature," Proulx said. "It's a part of who we are. In Canada you're always 15 minutes away from nature, even in downtown Montreal. It's a really Canadian thing to be close to nature. And we've always felt close to nature even when we lived in Montreal. Nature influences us because it's free and it's beauty." 
For the official video of their song, "Seven," intimacy with nature is perfectly captured. Three women stroll through the woods, admiring the different plants around them. On the contrary, the video for "Norton Commander (All We Need)" depicts Proulx in a classic car, cruising through an industrial city as she sings the hit song. She drives through all parts of the city, eventually escaping the industrial and commercialized areas to arrive in a suburban neighborhood and a desolate wind farm. Like Montreal, the video for "Norton Commander (All We Need)" perfectly embodies the idyllic combination of city and nature––alluding to the trio's roots. 
2019 was an important year for Men I Trust. Postponing their album "Oncle Jazz" three times, they have narrowed it down to perfection. With the release of their album with stunning songs like "Norton Commander (All We Need)," the trio is currently performing in their world tour. With a successful 2019, the upcoming year will only provide more success as Men I Trust will be a top alternative group to look out for.   
Leave a Comment
About the Contributor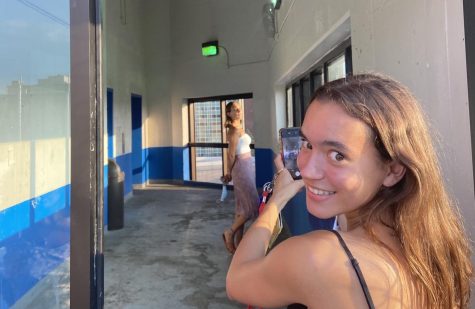 Tai Tworek, Print Editor-in-Chief
This is Tai's fourth year on staff and second year as a member of the Print Editor-in-Chief team. When she's not designing pages or writing articles, she is usually spending time with her grandma, playing soccer for Skyline or Detroit City FC, working at Dairy Queen, or trying to become TikTok famous. She has a strong love for oatmeal, the word "swag" and overalls.