A new coat of paint
Sala Abdou got home from work and began to cook dinner. She liked to air out the house: open the doors and windows. When she got to the back door of the house she spotted something brown on its glass.
"I opened the door and went outside," Abdou said. "And that's when I saw that word."
The 'N-word' had been written in brown spray paint on the back of her house.
She called her husband to the back. They stood there astonished and wondered why someone would do such a thing. In awe, Abdou went to her front porch to sit down and think. She began to ask herself questions. What happened? Who is after us? What did we do wrong? Why?
After thinking for about 15 minutes, Abdou decided to call some people. She called a neighbor, Gerald, and asked him to witness the graffiti. He came over and told Abdou to call the police.
The policewoman who answered the phone asked several questions; she wanted to know if Abdou or any of her children had issues with anyone. Abdou answered no. She lived in a friendly neighborhood; nobody had any problems with her or her kids.
"I never thought, after living there for so many years, something like this [would happen]," Abdou said.
Before the incident, Abdou felt safe. She would always have her doors unlocked and open. She wouldn't worry about anything of the sort.
"I just felt sad, because for the first time… I cannot be free anymore," Abdou said. "I don't want to live that way."
Two other houses ended up being vandalized on that same day. This allowed the authorities to conclude that Abdou and her family were not targeted directly. Even though she was skeptical, Abdou didn't wholeheartedly think the perpetrator was a racist with deep hatred towards her and her family. Instead, she described the person to be someone who "didn't know what to do" that day: someone who just wanted to mess with people.
Originally from Niger, Abdou has been in America for 20 years. In those 20 years, she has never experienced any sort of racism as blatant as the graffiti on her back door. She is skeptical that the political climate over the past three years has caused a resurgence of this behavior in America.
"There is always something happening," Abdou said. "From the regular people to even the people in office, things happen to people of color."
Despite what Abdou has witnessed in the past few years, she has held tightly to her positive outlook on the world. Personally, all the support her family has received has made the graffiti — and that word — on her door seem miniscule. She specifically recalls her friends, David and Jennifer, as she considers them to be her brother and sister. She also got support from her boss and coworkers. But it didn't stop there.
Her family received phone calls, emails, text messages and even letters — one of which came all the way from Los Angeles. She won't be able to completely put the spray-paint behind her, but reading those words and listening to those voices helped Abdou and her family.
Now, the memory that Abdou has of that moment has been shrouded by the support she has received. The singular word that was spray-painted on Abdou's house was met with thousands of others. Abdou's house has been painted over since the incident. But her house isn't the only thing with a new coat of paint — her life has one too.
Leave a Comment
About the Contributor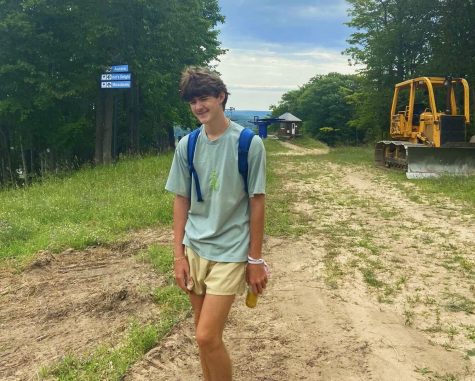 Cy Veilleux, Design Editor
This is Cy's third year on staff. His favorite thing to do for The Communicator is design pages for the magazine. That's why, this year, he is the Design Editor. In his free time, Cy loves to write, make art, and listen to supersonic industrial bass hyper pop music. Over the summer, he has basically turned into a pro slalom water skier, and he can't wait to see what his final year of high school is going to be like.