Women in Jazz – Grace Wang
Every summer, Grace Wang and her family would drive down to Maryland: eight hours spent watching trees flit by off of the side of the highway, music flowing through her ears. Wang's dad was always in charge of the car radio, filling road trips, rides to sports competitions and summer vacations with classic rock and jazz.
It was Wang's parents who pushed her to play music throughout middle school and high school and she picked up the trumpet in fifth grade. In a class of ten young trumpeters, Wang was the only girl — a pattern that would follow her through her time at Forsythe Middle School.
"I thought it was cool in middle school," Wang said. "I thought it was super fun to be the only girl in that space, but I always wished that there was somebody else, just because middle school boys aren't the most accepting people."
For years, she'd usually place among the top three chairs out of all of the trumpet players in her grade. This created an uncomfortable dynamic in the male-dominated section: some of the boys would feel angry; Wang would change her behavior, acting more quietly than she normally would.
Despite her impressive performance as a trumpeter, she never felt as respected as her male counterparts.
"Even if I could do the same things as them, it wasn't as good," Wang said. "At Forsythe, it wasn't outright; people weren't like 'Oh, you're not good because you're a girl,' but I felt that that was why people were doubting me. So I just kept trying to be as good as I could to prove them wrong."
By the time Wang was in 8th grade and beginning to make decisions about her high school career, the stress from being in a male-dominated environment was severe enough that she didn't want to participate in Skyline High School's marching band, where she would be one of few female musicians. Instead, she decided to join jazz at CHS, where she is currently a junior in Jazz 4 — the highest course in the program. Luckily, her experience at CHS has been much different than her time in middle school.
"Coming to Community was cool, just because there were other female people playing music," Wang said. "There were other girl trumpet players and I think that's one of the reasons that I'm still in jazz, because it's cool to be around people who are doing what you're doing."
Though she feels better represented at CHS than she has in the past, Wang still struggles to find female jazz role models, given that most of the well-known female jazz musicians are vocalists. Since she is an Asian woman and does not know of any female Asian trumpet players, she is underrepresented in multiple aspects of her identity.
Despite this, Wang feels optimistic about the coming year; she is excited to have something to practice and enjoys playing in a space where she has friends to keep her motivated.
"Don't force yourself to play music and be in spaces that make you uncomfortable," Wang said. "But if you want to play music, play music, because nobody else matters. Just do what you want to do."
Leave a Comment
About the Contributor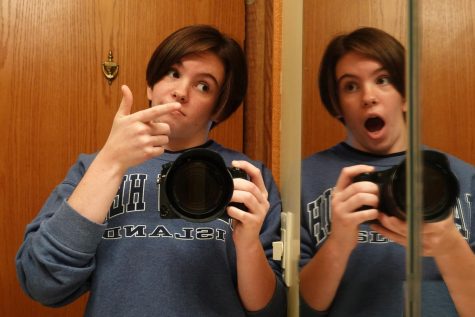 Geneve Thomas-Palmer, Web Editor-in-Chief
Geneve is in her fourth year on staff and her third year in leadership. Her favorite part about journalism is the unique way in which it enables her to interact with people, who all view the world with their own, individual perspectives. Journalism was one of the first things she felt passionate about: she felt a drive to experience and learn, to shift her own view of the world.
When she's not working on the Communicator, she can be found practicing jazz, preparing for a Mock Trial competition or helping run feminist club. Some fun facts about Geneve are as follows: she was born with an extra thumb that has since been removed; she loves to sing and dance, even though she is not good at either.