Pluto Projector Review
Rex Orange County gained thousands of fans, including myself, when he dropped "Pluto Projector." I have been aware of Rex Orange County for a while, but now I understand why people are big fans. "Pluto Projector" was released in 2019 and was part of his album "Pony."
 The song starts with Rex Orange County singing over a guitar instrumental, and you can feel the build-up to something bigger. Soon, there are kicks added to the instrumental along with piano, and this begins the transformation of the song from a more acoustic sound to a more intricate, fuller style of production. 
There are also background vocals added that create harmony with his voice and adds another layer to the song. The piano and the layered vocals make you feel as though you are being transported to another place. 
This song's scenery paints the picture of a young couple watching the sunset, staring at the stars, smiling, and having a good time while dancing the night away. As the song progresses, your state of mind shifts toward that of a camera with a blurred background––only focusing on the main subject. It gives the feeling of being present and enjoying the moment. 
You most certainly do not need a significant other to enjoy this song, but "Pluto Projector" was made for the late-night car rides with a loved one after a long day of enjoying each other's presence. The song has a combination of innocence and intimacy, creating an atmosphere that makes it hard not to smile. 
The song is intriguing throughout its entire runtime of four minutes and 27 seconds. It has the right balance of mellow and intense sound throughout. Rex Orange County's voice weaves in and out of the instrumentals with ease and guides the song with his thoughtful delivery of the lyrics. 
The outro encapsulates the intensity of the song without needing any lyrics. In the final seconds of "Pluto Projector," Rex Orange County sings softly over a very light guitar. This does a good job of not ending the song abruptly, and instead, leaving you wanting more. 
Leave a Comment
About the Writer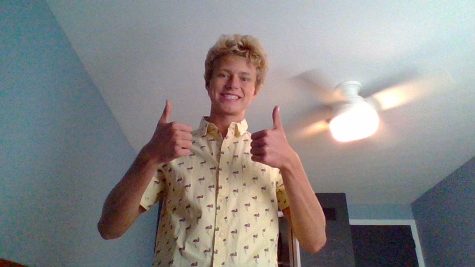 Elijah Klein, Journalist
Elijah Klein is a junior at Community, and he is on the Pioneer basketball team. This is his first year on staff, and he is looking forward to it! When it's nice out, you can find him reading and soaking up the sun. He enjoys playing basketball with friends, and he is always down for a good talk.