"Spilligion" Album Review
Spillage Village, a Georgia-based music collective of rappers, singers, and producers, dropped their major-label debut album, "Spilligion" on Sept. 25, 2020. This album is considered their first mainstream release because artists in the collective had gained popularity and widened their fan bases. "Spilligion" brought anticipation from listeners through artists on the album like EARTHGANG and JID, who gained popularity in the past few years. 
The project emphasizes religion and different aspects of it. You can even see this through the titles of tracks: "Baptize," "PsalmSing" and "Mecca." Throughout the tracklist, there are repeated references to aspects of religion such as prayer, baptisms, Jesus and God. These themes are encased by groovy instrumentals, powerful singing and entertaining vocal and lyrical performances by these rappers. This project is for the hip-hop hippies of the world. It could be defined as gospel rap—some of the best gospel rap I have encountered. (To be fair, I have not listened to much gospel rap, so who knows, maybe I'm missing out).
 The project has a variety of instrumentals, leading to a more interesting overall sound. It goes from a jazzier, harder beat in "Baptize" to a strummed, more soulful beat on "Ea'alah," to a smooth, electric guitar-based instrumental on "Oshun." 
As previously mentioned before, EARTHGANG and JID are two artists that have received recognition lately, and they did not disappoint in "Spilligion." The duo of EARTHGANG created solid verses and hooks, while JID maintained his reputation of being one of the best feature artists in the rap game today. He never fails to deliver a verse containing clever punchlines and metaphors.
Some of the songs themselves can stand alone, but the value and message of the album altogether create a long-lasting sound that will stay engraved in your mind. For me, the highlights of the album were the songs "Baptize," "Ea'alah," "Cupid," "End of Daze" and "Jupiter." These tracks sum up the album and its key messages. There is diversity among the stylistic sounds—rapping, mellow singing, upbeat vocals and group singing—that allow listeners from all backgrounds to find something they enjoy.
Spillage Village has some very promising young talent, and I am only optimistic about the music they release in the future. This album shows a lot of promise, and if you have been following any of the artists who are featured on the project for a while, you can see the growth they have made musically as well.
Leave a Comment
About the Contributor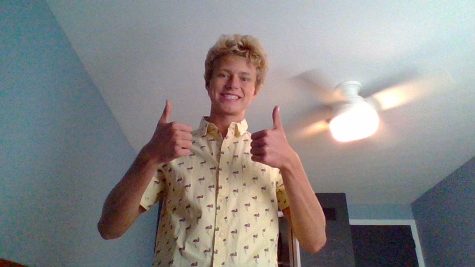 Elijah Klein, Journalist
Elijah Klein is a junior at Community, and he is on the Pioneer basketball team. This is his first year on staff, and he is looking forward to it! When it's nice out, you can find him reading and soaking up the sun. He enjoys playing basketball with friends, and he is always down for a good talk.