"THE ALBUM"
Korean pop music — known widely as K-pop — has been making itself known globally in the last few years. One notable group achieving this is BLACKPINK, a four-member girl-group, with Jennie Kim (Jennie), Kim Jisoo (Jisoo), Roseanne Park (Rosé) and Lalisa Manoban (Lisa). BLACKPINK, now one of the biggest acts in the world, has been making waves in the music industry since its debut in 2016. At this time, the group has released only 13 songs, causing anger from fans. Following this, BLACKPINK's label, YG Entertainment, announced their 3 step plan towards releasing a full-length album.
 On Oct. 2, BLACKPINK released their first full studio album, "THE ALBUM," with a total of 8 tracks. The album includes two pre-released singles, "How You Like That" and "Ice Cream," which features Selena Gomez, along with 6 new songs led by the single "Lovesick Girls." "THE ALBUM" ties influences from pop, rhythm and blues, hip-hop, trap and electronic dance music together to create a more mature collection of songs than BLACKPINK has ever released.
"How You Like That," released as a single on June 26, 2020, is the first single on "THE ALBUM." serving A hype anthem, fans have described it as "noise music" for its unique brashness and flashy production. In the fully English chorus, Lisa sings: 
"Look at you, now look at me, How you like that?" 
This is a teasing line in reference to the group's unexpected global success as a female K-Pop group. 
"The day I fell without my wings, those dark days where I was trapped, you should've ended me when you had the chance." Rosé sings.
"How You Like That" is a boast, showing the hip-hop influence on the album, delivered within loud bouncy beats.
"Ice Cream," featuring Selena Gomez, took a much brighter turn than the album's first single. Released on Aug. 28, "Ice Cream" is a flirtatious summer song, with a tune in the background that reminds me of an ice cream truck. The song is very different from BLACKPINK's usual music, which usually takes on a darker concept. Lisa is a standout in the song, with her catchy repeating flow,
"Keep it movin' like my lease-up / Think you fly, boy, where your visa / Mona Lisa kinda Lisa / Needs an ice cream man that treats her"
"Lovesick Girls" is the main single on "THE ALBUM" and has light '80s synth-pop influence throughout a song about heartbreak. Lyrically, "Lovesick Girls" expresses that people keep looking for love but were "born to be alone" and are "nothing without this pain." The second verse is a duo rap between Lisa and Jennie, rapped entirely in English.
"Didn't wanna be a princess, I'm priceless / A prince not even on my list / Love is a drug that I quit / No doctor could help when I'm lovesick"
Leave a Comment
About the Writer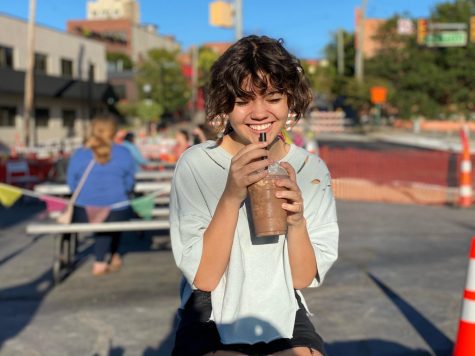 Amy Boeving, Journalist
Amy is a freshman at Community, this being her first semester on staff. When she is not sitting around in existential dread, Amy enjoys riding her bike, listening to extremely loud music at 2 am, and playing Animal Crossing. She is very excited to be on staff this year and hopefully years to come!