Western Michigan University Jazz Invitational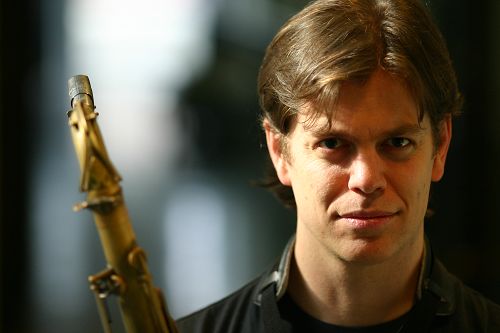 Leif Gearhart-Hall & Erez Levin
April 16, 2010
It is 5:00 on a cold, wet morning. Only the streetlights are able to reveal the first few of the Community High Advanced Jazz students, drowsily puling up in their cars to the Jazz Room door. Ranging all the way from 9th through 12th grade, more and more students arrive at the school, as musical instruments and equipment are loaded into minivans. When everyone arrives, the minivans leave, and they all depart to Kalamazoo, for the Western Michigan University Jazz Festival.
The Western Michigan University Jazz Festival took place March 13th. This was the 30th festival and it involved performances from high schools across the state. Each ensemble was seen and heard by their peers and a panel of judges, who gave the bands feedback in voice recording and in writing.
Master classes took place throughout the day and the WMU drum choir had an outstanding performance for the participants of the festival.
This year, the festival's guest artist was New York tenor saxophonist Donny McCaslin. Students, teachers, and other attendants watched, mesmerized, as McCaslin opened his clinic with an outgoing and powerful solo, which led itself into jazz standard "Body and Soul," which he performed with one of the WMU jazz ensembles. He continued with several more pieces, some of the standards, some of them his own compositions. The clinic ended with a Question/Answer session, and a final song.
Next, the festival awards were announced. The first award, "Outstanding Soloist," was awarded to many students, including CHS advanced jazz students Kyle Morrison, Alex Patten, Ken Ball, Josh Fendrick, Will Smith, Leif Gearhart-Hall, Paul Smith, Sophie Tulip, Jake Johengen, John Schneider, Catrin Dowd, Erez Levin, Don Gozzard, Adam Olshewski, Milan Griffes, and Ben Pernick. There were three festival combo winners, including the CHS combo "Maxed Out," consisting of Max Bowen, Max Hully, Jud Branam, Aidan Cafferty, and Spencer Johnson.
"I was really thrilled with how a few of our bands played better than they've ever played in any setting, whether it be a concert, gig, or rehearsal." Jack Wagner (Jazz Director at CHS) said, "I thought, 'What a great place to have it happen;' I think it went to a whole new spiritual level for them."
Listen to The Big Ten performing The Night Has A Thousand Eyes: The Night Has a Thousand Eyes
Listen to New Jazz play Adam's Apple:
Adams Apple
Community High students share their thoughts on the festival:
Western Jazz Invitational Interviews