Emily Wilson-Tobin Joins Community as the New Theater Director
After saying goodbye to Quinn Strassel at the end of his 11 years of directing at CHS, Community Ensemble Theatre (CET) welcomes a new director, Emily Wilson-Tobin.
Wilson-Tobin is a longtime friend of Strassel; they have known each other for ten years, are neighbors and have several familial ties. Shedid theatre with Strassel's wife, Adrienne Pisoni, when they were children. Wilson-Tobin also went to high school with Pisoni's sister, who is now married to her brother. Wilson-Tobin recalls a fond memory of the former CET director when she and her husband were in the beginning stages of purchasing the house they now live in.
"We were walking down the street, and I heard from behind me 'Emily!', and I turned around, and Quinn was outside running after us," she said. "He was wearing clothes, but with just his socks on, and he helped convince us to stay in the neighborhood."
However, she still feels intimidated by the shoes she has to fill.
"Knowing what a powerful artist and educator he was can be overwhelming," Wilson-Tobin said. "[I want] to come in with the same kind of energy and spirit that he had."
Wilson-Tobin previously worked at her alma mater, Greenhills School. She taught middle school theatre and high school acting classes, as well as directed two shows a year. She is excited to be inheriting the passionate CHS theatre program.
"The amount of energy [CET members] have is overwhelming in a really good way," Wilson-Tobin said.
Rehearsals and crew meetings for CET's fall show, "She Kills Monsters" are underway, actors and techies alike have started to get a taste for Wilson-Tobin's directing style. Stella Valentino, a stage manager for the production, admires her adaptability and character.
"She's really willing to get feedback and to make the process of switching directors as comfortable as possible," Valentino said. "I think that speaks volumes to how she is in everyday life."
Jasmine Lowenstein has also gotten the opportunity to work closely alongside Wilson-Tobin both in and outside of rehearsals. Lowenstein is president of the CET student board, and is playing the role of Vera onstage. She admires Wilson-Tobin's kindness, humor and organization skills.
"I think she's been able to keep up the amazing environment in CET," Lowenstein said.
Wilson-Tobin is working to ensure that CET maintains the same sense of family it had under Strassel's leadership. That being said, she has a variety of new ideas she would like to add to the program. One is to include a wider diversity of material, such as plays from other countries.
Wilson-Tobin is used to announcing both shows by the end of the preceding school year, but has decided to hold off on selecting the spring musical until she gets a better feel for the group and the circumstances regarding COVID-19. She is confident that if cases were to go up again, the ensemble would be able to adapt to the situation.
"We'll follow the lead of what the district tells us and be as creative and proactive as possible and make it feel like a real experience," she said.
Wilson-Tobin lives within walking distance from CHS with her two daughters, husband and four pets. Her husband is a professional arborist, who was participating in a tree climbing competition the weekend after callbacks for She Kills Monsters.
"You could say he's a tree doctor, which is pretty cool," Wilson-Tobin said.
Her daughters, Sophie (10) and Nadia (7), are both students at Bach Elementary. They share her passion for the performing arts, which she finds rewarding as a director and mother. Even her animals are involved in theatre, in their own respects. One of her two cats, Pippin, shares his name with the 1972 hit Broadway musical, while one of her two dogs, Archibald (Archie for short), is named after the hermit uncle from "The Secret Garden".
However, Wilson-Tobin has various interests outside of the theater. She enjoys reading works of fiction such as the "The Dark is Rising" series, "Such a Fun Age" and "The Most Fun We Ever Had". She likes watching movies, from "Halloween" to "Bad Moms". She also travels to Northern Michigan, specifically the Leelanau Peninsula. Scrabble is her favorite board game, though she does not think that is an exciting choice.
Wilson-Tobin has found her place at CHS working with students after school in the Craft Theater with a smile on her face.
Leave a Comment
About the Writer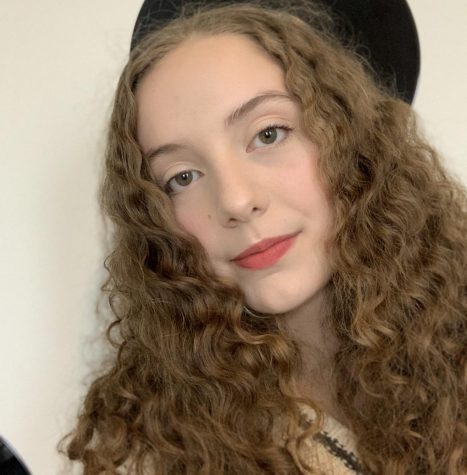 Lila Fetter, Journalist
Lila is a sophmore at Community High School and this is her first semester on staff. Aside from journalism, Lila enjoys performing in CET's productions, running Feminist Club, writing songs, and playing clarinet. She also loves spending time with her friends and meeting new people.