"Hello, privilege. It's me, Chelsea" Review
Everything is good about Chelsea Handler's new documentary, "Hello, Privilege. It's me, Chelsea"– except Handler. The 60-minute Netflix special follows controversial American comedian Chelsea Handler as she explores the concept of white privilege and confronts ways even she has benefited from.
Instead of concentrating on what people of color had to say about white privilege, the film shifts perspective to focus on how white people interpret white privilege, and more importantly, understand that this is their problem. Handler's comedic approach (almost) took a back seat for this documentary. To establish her position, Handler was quick to admit that she is "as white as they come". The documentary features many celebrities from contrasting backgrounds such as Kevin Hart, Tiffany Haddish and Jelly Roll. Handler sat down with all ranges of people, from black activists to straight-up obnoxious, white conservatives. 
Maybe I just couldn't get past the fact that she wrote a book titled, "Uganda Be Kidding Me", but you've got to be kidding me. I only felt engaged in the documentary when other people besides Handler were talking. Her approach to the subject matter seemed to have an underlying tone of insincerity. The documentary feels heavy-handed and exploitative at times, especially at first glance, but by the end, I can see past Handler's unsavory comments to the real meaning. After Handler's rocky teenage experience was revealed, I did gain sympathy for her. Did I appreciate the documentary more after her adolescent years came to light, or did her obnoxious personality remarkably shut up? 
I applaud the effort of raising awareness on white privilege and "Hello, Privilege. It's Me, Chelsea" is definitely worth watching if you deny white supremacy. Once you get past Handler's blunt personality, there is a great takeaway from the documentary on how the issue of white privilege lies within white people, and no one else. 
I don't think it was appropriate to have Handler front this documentary. It would've shown a much deeper light if it was hosted by a passionate advocate of this topic. Yes, it was a good way to get a controversial comedian to bring tons of media attention to such a relevant topic, but it didn't satisfy my expectations of a genuine documentary. 
Leave a Comment
About the Writer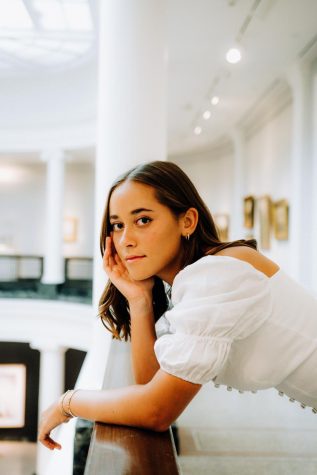 Mia Goldstein, Print Editor-in-Chief
Mia is a senior at Community High and this will be her second year as a Print EIC. Most of her time is spent on InDesign, fooling around with page design or making funky vector art on Illustrator. When she's not in the journalism room, you will either find her on the tennis court 80% of the time or with her black lab, Abby, the other 20% of the time. She's always up for a challenge. Bring it on senior year :)