Pink Siifu "GUMBO'!" Review
A growing underground artist, Pink Siifu has been busy with collaboration and creating intricate, experimental projects, never confining himself to one style or genre. His latest album "GUMBO'!" reflects this.
While "GUMBO'!" is one of his more accessible albums, it is also true to everything Siifu musically stands for. It starts off with the soulful "Gumbo'! 4 tha Folks, Hold on,"which is full of layered, trippy back-up vocals, Siifu's raw, raspy delivery, heavy basslines and lumbering drums sounding as if they were tripping over each other, all in 3⁄4 time.
This transitions into the hard-hitting "Wayans Bros.," shifting the mood to a much more industrial, off-kilter feel, pairing well with the following track, "Roscoe'!" Changes like these can be found throughout the entirety of the record. It thrives on its melting, reverb-heavy synthesizers and melodies, as well as Siifu's raspy, raw delivery. The sound of this record can sometimes be reminiscent of the cloud rap Lil B pioneered and A$AP ROCKY infamously broke the scene with. However, Siifu's sonic soundscape is much wider than these examples. "Scurrrrd" is an example of Siifu's expertise in composition and structuring pieces, when his motivation to do so is at its peak.
Despite the album's approach of hitting you with a collage of ideas one after another, the pacing can seem a bit choppy or uneven. There are many interludes and shorter cuts on this record, as well as songs that, when over, either leave more to be desired or feel too long-winded. "Fk U Mean/ Hold Me Dwn" is a two part song that, musically doesn't have much structure in either half. On the other hand, "Doin Tew Much. (In My Mama Name)" doesn't do much for me regarding Siifu's delivery. Its instrumental is dreamy and hazy enough, but its appeal only goes that far for me.
Regardless of this, "GUMBO'!"'s themes, which range from family, culture, and digging into his past experiences, gives this album a unique personality and identity, along with Siifu's vocal eccentricity. Even during songs that seem to feel redundant or unfinished, I can still appreciate Siifu's willingness to show off these personal themes, both in his lyrics and production. While "GUMBO'!" isn't perfect, it's hard not to like this project with songs such as "Bussin", "Big Ole'", "lng hair dnt care", and more that have such an infectious bounce to them, it goes to show Pink Siifu's artistry in bold and colorful hues.
Consensus: It's simply bussin'
Score: 7/10
Leave a Comment
About the Writer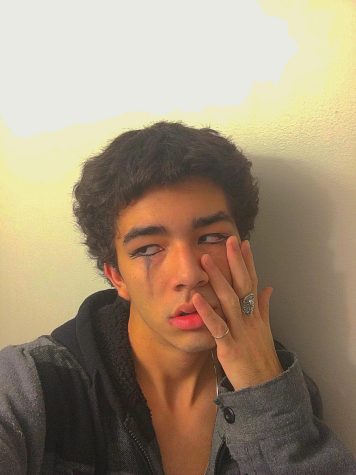 Evan Ochoa, A&E Editor
Evan "Gummy" Ochoa is a junior who's in their 4th semester of staff (A&E Editor). Gummy finds passion in dissecting pieces of art, specifically music. In their spare time, Gummy is an artist themself, producing, writing, and composing their own music under the moniker GVMMY, as well as plays in a jazz band as a drummer. Other hobbies include refereeing on weekends for little league soccer, playing Smash Bros. as Jigglypuff with friends, and recording music with other local artists.