JPEGMAFIA "LP!" Review (Offline Version)
"LP!" is the latest addition to Peggy's ever-growing discography. However, before you dive into this album, there's something that must be noted; there are two versions of this project. These versions, "online" and "offline," as Peggy calls them, can be found on different platforms. While the online version is on paid streaming services such as Spotify and Apple Music, its offline counterpart can only be accessed via sites like Bandcamp, Soundcloud, and other non-profit platforms.
Peggy is no stranger to mixing popular samples into the sonic abyss that are his instrumentals, manipulating them to become as obscure as everything else in the mix. However, this practice has caused sample clearance issues, and due to this, some songs "can't be included for streaming" and are only found in the offline version.
Conceptually, Peggy seems more at peace with himself, reflecting self-love on the intro track "TRUST!", as well as showing his disdain for the ingenuity of artists and his experiences and perspective on the politics of America and our society, despite the backlash.
As far as the music goes, everything on this project is detailed and sometimes sonically hard to digest – exactly how he intended it to be. Handling the bulk of the production, Peggy strives for authenticity, whether it be having flying percussion or synth hits coming from every direction, or glitched out instrumentals that barely hold the rhythm of the song together. "LP!" has it all. Unlike some of his previous projects, the transitions and connections between each song in the tracklist aren't as seamless, conceptually or audibly.
"NEMO!" has an instrumental that feels like it's on the brink of falling apart with its textured drums and high-pitched synth hits, as Peggy overwhelmingly hammers the instrumental down with his vocals. However, this transitions into "END CREDITS!", which samples a WWE soundtrack, a mix that works surprisingly well. I can appreciate Peggy's adventurous attitude towards this track, as well as the rest of the album.
Peggy, however, really shines when it perfects the mood it's trying to convey on all fronts. "REBOUND! (ft. DATPIFFMAFIA)" is hard-hitting, braggadocious and filled with references galore, flexing his cultural capital. The beat only gets heavier, when DATPIFFMAFIA's verse comes in, effortlessly bouncing back from Peggy's verse, as the kicks and bass become an anchor to the instrumental, providing weight and contrast to the eccentric MCs. "TIRED, NERVOUS, AND BROKE!" is a much more somber, anxious moment in the tracklist, measuring up to more than 5 minutes of runtime, the longest track on the album.
All in all, Peggy does not fail to deliver in every way he can. Even at its slower points, Peggy's inventiveness and willingness to experiment is something no one should take for granted. Nothing stays the same during any of these tracks – each is hand-crafted and sculpted to his perfection.
Consensus: 100% DISAPPOINTED
Score: 8/10
Leave a Comment
About the Writer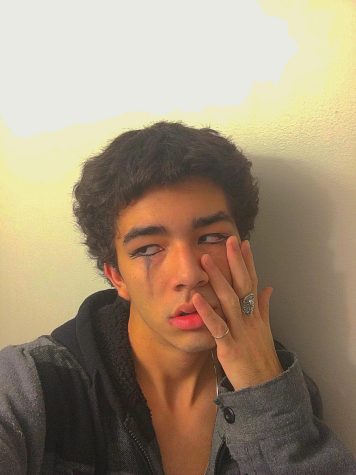 Evan Ochoa, A&E Editor
Evan "Gummy" Ochoa is a junior who's in their 4th semester of staff (A&E Editor). Gummy finds passion in dissecting pieces of art, specifically music. In their spare time, Gummy is an artist themself, producing, writing, and composing their own music under the moniker GVMMY, as well as plays in a jazz band as a drummer. Other hobbies include refereeing on weekends for little league soccer, playing Smash Bros. as Jigglypuff with friends, and recording music with other local artists.