"We're All Alone in This Together" Album Review
U.K. rapper Santan Dave released his second studio album on July 23, "We're All Alone In This Together."
While keeping his known grime and drill sounds, Dave delivers bar after bar that takes several listens to fully understand. Dave blends slower songs to communicate messages about depression and Black rights in his songs on the album.
"Three Rivers" is a slow grime song about the systemic inequalities that bound Black individuals worldwide. Dave uses allusions to show the racism within the English Government and describe the social issues embedded within the U.K. institutionally.
"Verdansk" is a "drill" song with heavy references to the popular first-person shooter video game "Warzone." The song has a slower beat with contrasting 808 drums and bass. This beat is generally found in the New York drill scene––popularized by rappers like Pop Smoke and Fivio Foreign. Dave uses these sounds to apply his unique lyric structure and metaphors to produce a pleasant sound.
"Clash" is the third song on the album, fitting the course of the album perfectly. The music is fast-paced with hard-hitting drums. The song features Stormzy, one of the U.K.'s best upcoming rappers. Their voices collide with each other perfectly, leading to one of the best songs on the album.
The worst song on the album is "Twenty To One," as Dave goes for a high pitch sing that doesn't fit his voice at all and comes off screechy and annoying.
Overall, the album is impressive, but struggles with consistency in sound, song length and structure. The longest song on the album is 10 minutes long, with others being six minutes long, making it hard to listen to in one sitting. And, the album structure moves from bass bumping sounds to slower, more heartfelt sounds––making each song sound identical and inconsistent.
Dave is someone to keep in mind as the 23-year-old is taking over the U.K. rap scene by storm and continues to improve his sound with every track he puts out.
Leave a Comment
About the Writer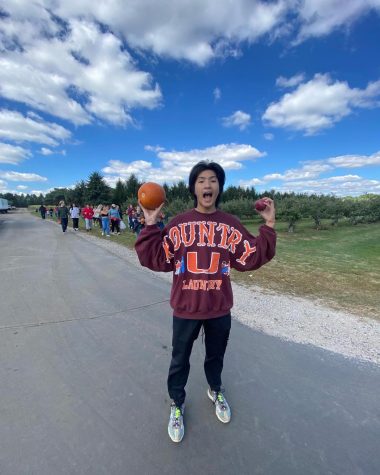 Sam Cao, Social Media Editor-in-Chief
Sam is in his third year on staff and his second year as a social media editor-in-chief. When he's not in room 300 you may catch him playing lacrosse at Pioneer, or enjoying bubble tea at a multitude of locations excluding Jasmine Bubble Tea.