Artist Profile: Kate Angus
From lined paper and Sharpies to digital drawing, Kate Angus, a senior at CHS, has been drawing for 5 years. In middle school, Angus was fascinated with digital art. They decided to give it a try after asking other digital artists for guidance.
"I chose it [digital drawing] as my main medium because when I was in middle school, I was fascinated by how people could just draw digitally," Angus said. "I was like 'how do you do this?!', so I asked one of the artists that I had followed at the time [on instagram] and they showed me what to do, and I was just blown away. I just practiced every day. I was so into it and it just makes me very happy."
Angus mostly draws cartoon characters. Their work reflects styles from "Minecraft", "Steven Universe" and anime. One of Angus' pieces features a "Minecraft" Youtuber they enjoy watching and get inspiration from.
"He's called Philza Minecraft, he is a Minecraft YouTuber, and I really liked to watch him." Angus said. "He's a super chill dude, and he's also an artist, just like I am. He builds really cool stuff. He also explores his world, and his stuff is really pretty."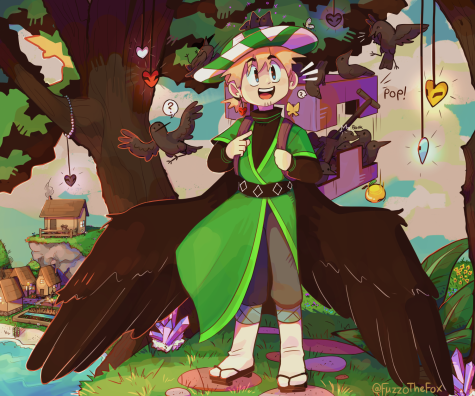 Another piece shows an original character made by Angus.
"I think it was sophomore year, where I was just, I guess, figuring myself out, and my emotions were everywhere," Angus said. "I made a character about that. He has uncontrollable emotion dials, called emodes, and he has seven of them. So, this is one of them. This is rage."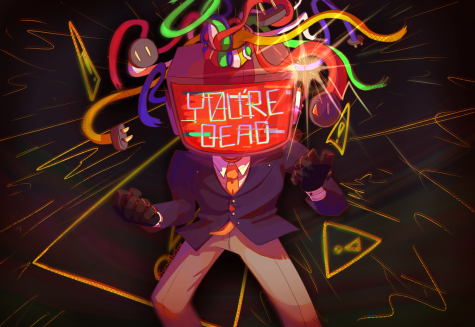 Over quarantine, Angus practiced drawing everyday all day which helped them progress through isolation. Angus was given the time to really dive into their art and figure out what style they enjoyed. Art also gave them something to distract themselves from the pandemic.
"It allowed me to connect, while also disconnecting from what was going on." Angus said. "I feel like that was very good for me."
Angus' piece, "My Stuff, Past, Present", portrays new and old.
"I used to be super into Disney princesses, like, it was just my obsession," Angus said. "I would wear Disney princess dresses to school, I would play with them, I would watch Disney princess movies on repeat every day. But, I grew out of it. Last year, I was sorting through my stuff, and I saw those princess dresses and I'm like, 'Oh yeah, I remember I was obsessed with that'. So I was like 'it would be neat if I combined the current stuff that I use with the stuff that I used to use'."
In this piece, Belle's head is replaced with headphones, Tiana's head is replaced with a guitar and Cinderella's is replaced with a moon. All reflections of Angus's current interests and hobbies. All together, this piece took Angus 12 hours to complete.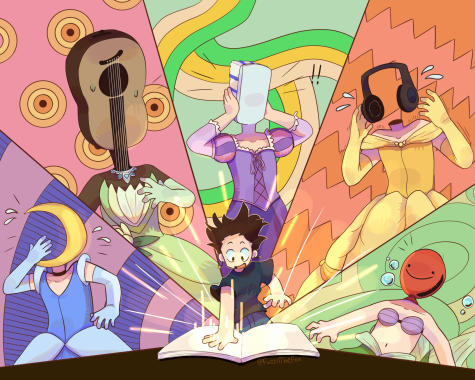 In January, 2021, Angus experienced burnout from creating art everyday. Since then, Angus continues to recover through art.
"I've been going kind of back and forth unevenly," Angus said."Doing these big pieces that I spend hours on, and then just on doodles that I do daily that are just kind of, whatever. I'm not going to show them to anyone. But that's what I really like about art is sharing it with people."
Angus continues to practice daily by doing studies and watching shows. "I want to make sure that I'm actually having fun doing art, because that's why I do it, to have fun doing something that I enjoy."
Leave a Comment
About the Contributor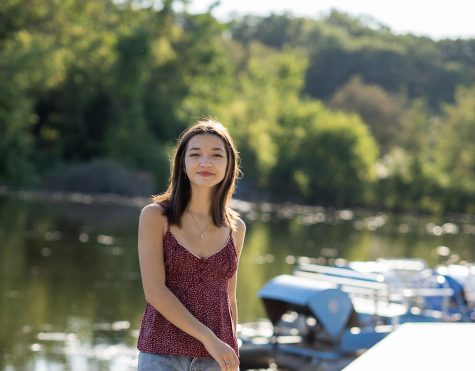 Mia Wood, Journalist
Mia Wood is a senior at CHS and this is her first semester on staff. When she's not at school you can find her painting or experimenting with different art styles. She enjoys finding new music for her playlist, walking her dog, hanging out with friends and going on bubble tea runs with her twin brother who she uses as her personal chauffeur. She is looking forward to this school year and is glad to be back in person.