"Red (Taylor's Version)" Review
The anticipation has ended for Taylor Swift's re-recorded album "Red (Taylor's Version)". Along with the 11 songs from the original album in 2012, Swift added another 19 tracks including a 25-second clip named "A Message from Taylor," which included a message to her listeners:
"Musically and lyrically, 'Red' resembled a heartbroken person — it was all over the place," Swift said. "A fractured mosaic of feelings that somehow all fit together in the end. Happy, free, confused, lonely, devastated, euphoric, wild and tortured by memories passed. These are the original 30 songs that were meant for 'Red.' I love you guys."
Compared to the original release of this album in 2012, the emotion behind each lyric has intensified.
"All Too Well (10 Minute Version) (Taylor's Version) (From the Vault)" is an expanded version of the song "All too Well." This track is an emotional journey; it reminisces on lost love. This song rocketed to #1 on the U.S. Spotify Chart in just one day. The symbolism behind this song is up for interpretation, but the overall message is reflecting on the joys and hardships of a past relationship and wondering if the other person still cares.
"Red (Taylor's Version)" does an amazing job of comparing emotions to colors. Swift compares loving "him" to the color red, losing "him" to the color blue and missing "him" to the color dark gray. The vocals offer the most significant change from the original album. The maturity in her voice and the clearer pronunciation of each lyric increases the passion and power of the songs.
"Message In A Bottle (Taylor's Version) (From the Vault)" is an added song that was not on the original album. This song is upbeat and happier than other songs on the album; it is a pop song about two people liking each other but not sure how to approach each other. This song has a simple melody and a very catchy beat.
"22 (Taylor's Version)" is a quick, fast-paced song. This song is more childish; with the maturity in Swift's voice, it doesn't fit well.
This album is breathtaking and monumental with each song expressing a different feeling in some way. With the variety of emotions, this album has a song every person can relate to. However, the rhythms range from slow to fast which can make listening to the whole album at once difficult.
Swift continuously impresses her fans and each re-recorded album is powerful. This album has shot to the top of the charts — Swift is once again taking over the music industry. After a long career, her future still holds so much.
Leave a Comment
About the Writer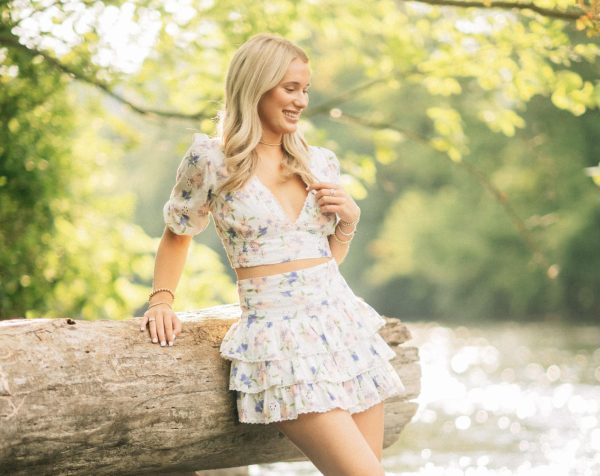 Reagan Masek, Midnight Sun Editor-in-Chief
Reagan Masek is a senior entering her fourth year on The Communicator staff and her third year as an EIC of the Midnight Sun. Outside the walls of Community High, you can find her out with her camera or playing lacrosse. She loves to go on drives and walks and you can always find her listening to music. She loves writing, photography and In-Design. She is super excited for another semester on staff and can't wait to see what her final year at Community High holds!