FKA Twigs "CAPRISONGS" Review
FKA Twigs is no stranger to the massively intricate soundscapes, meant to be visualized and have the ability to succumb the listener to its enticing rhythms and surreal hues, almost feeling like a lucid dream of sorts. "MAGDALENE", her previous full-length project, encapsulates this avant-garde approach. However, after that journey of chaos, turmoil and intense emotion, Twigs has decided to follow it up with a more casual piece "CAPRISONGS".
A mixtape by Twigs herself, "CAPRISONGS" has a loose concept, giving less focus to the overall conceptual arc of the album and instead focusing on making each individual song a vibrant, danceable experience. While "CAPRISONGS" doesn't hit the listener as hard with degraded drums and sharp synths like her other records, it doesn't falter in being compelling and enjoyable.
While some of the industrial IDM and electronic touches are still present, influences which are more unfamiliar to Twigs's discography, such as afrobeat and drill make their debut appearances. "Papi Bones" featuring Shy Girl is a full on dancehall-fest, riddled with the signature piano chord hits, dembow rhythms and an overall liveliness, all contributing to its danceability. It's also not a mystery this track is so fun when you add on the smooth, yet effortless Shygirl verses.
Along with these tracks, she also ventures into more R&B territory, collaborating with the likes of Daniel Caesar, Jorja Smith and even The Weeknd. These forces joining together work well, especially when considering how talented and compelling a vocalist Twigs presents herself to be. In "Tears In The Club", while she's leaning more into this sound, her familiar niche and brash take on it is still present. However, despite her covering new territory, she doesn't seem to sound out of place in any of these tracks.
"CAPRISONGS" is a celebration of one's self, which is further eluded by the title referencing the Capricorn zodiac sign (Twigs' sun sign). She sounds much more at ease and at peace with herself and her psyche. After the projects "MAGDALENE" and "LP1" being as heavy as they were, this change of pace is refreshing and makes me optimistic for the future.
Consensus: — For anyone who wants a soundtrack that embraces their true "sun".
Score: 8/10
Leave a Comment
About the Writer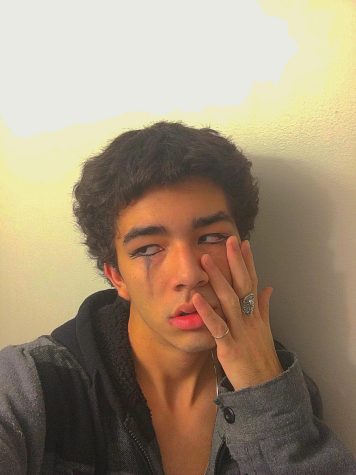 Evan Ochoa, A&E Editor
Evan "Gummy" Ochoa is a junior who's in their 4th semester of staff (A&E Editor). Gummy finds passion in dissecting pieces of art, specifically music. In their spare time, Gummy is an artist themself, producing, writing, and composing their own music under the moniker GVMMY, as well as plays in a jazz band as a drummer. Other hobbies include refereeing on weekends for little league soccer, playing Smash Bros. as Jigglypuff with friends, and recording music with other local artists.