Feels like Home
Matt Johnson's move to Pioneer High School and the legacy that began with a cooking class.
Room 306 was the first classroom where Matt Johnson ever taught. From his first days as a student teacher to his time as one of Community High School (CHS)'s most beloved English teachers, Johnson has called Room 306 home for over 15 years. Now, he has left CHS to pursue a teaching job at Pioneer High School (PHS) where he will teach a ninth-grade English class and multiple academic support classes for PHS students. "It is really an opportunity to both teach and make a bigger impact for one of the large [Ann Arbor] high schools," Johnson said. "Even though I'm always looking for the next, bigger challenge, this was a super hard decision to make."
Johnson's life has revolved around CHS ever since he was a high schooler himself 20 years ago. Johnson, a PHS student, took a cooking class through CHS's Community Resource (CR) program during his senior year and graduated from PHS in 2001. He went on to study English and education at the University of Michigan before student teaching in his future CHS classroom, Room 306, under the guidance of former CHS English teacher Ken McGraw.
"[Student teaching] instantly got me thinking about teaching beyond just 'Here's a book. Do a test,'" Johnson said. "[McGraw] treated [student teaching] as its own course in itself and walked through every part of teaching and made it really clear how it works. I think that gave me a significant leg up that I am eternally grateful for."
Upon completing his student teaching years, Johnson traveled the country and taught at five vastly different schools, ranging from costly private schools on the California coast to the biggest high school in the country with 6,500 students in Plymouth-Canton, MI.
While he valued the connections he built with students, he was not receiving the fulfilling teaching experiences he sought. Johnson was about to leave education in search of another career when he received an offer in 2014 to teach English at CHS. He took the job occupying the same "home" he student-taught in seven years before: Room 306.
"I was to the point where I was taking the GMAT and all the tests that you take to get into grad-school. [I] was very actively pursuing a potential career change," Johnson said. "But coming [to CHS] changed that. Once I was here, all of the sudden, I found what I had always hoped teaching could be."
Johnson has always strongly agreed with the CHS approach to education — specifically its open attitude towards learning and its efficiency in adjusting the system as needed. For Johnson, becoming a CHS staff member deepened this admiration immensely, particularly in regard to the freedom and trust embedded in the teaching style at CHS.
"To have the ability to create [classes] myself was completely intoxicating," Johnson said. "[CHS] gave me the freedom to teach the books I love and write lessons that I know are really important. Up until that point, I had never experienced something within teaching like that."
Johnson credits this freedom of teaching to the inherent alternative style of CHS and the administration that oversees it. The opportunity to partake in and build on this freedom in the classroom is one that Johnson doesn't take for granted.
"Part of what makes this school special is [that] it trusts its teachers to work as professionals and to use their professional judgment," Johnson said. "We get to say 'Here are the things that I see that we need to work on,' as opposed to working from some curriculum lists that have been prescribed by somebody who hasn't been in the classroom for 20 years."
He also credits his colleagues with shaping and enhancing the individualist culture that defines CHS. In addition to McGraw, Johnson has had the opportunity to work alongside CHS English department icons like Judith DeWoskin and Tracy Anderson — people who were teaching when he was in high school.
"I have amazing colleagues here," Johnson said. "I've been at five different schools in my career and the top 10 teachers I've worked with have all been [from CHS]."
With the lively CHS spirit shaped by its staff and students, Johnson sees his transition to PHS as a unique and important chance to share this wealth of CHS's culture with other schools in the Ann Arbor area.
"It's bringing a little bit of [CHS] to other places as well," Johnson said. "It's the ability to take a lot of what we do here so well and share that with other students and other teachers. And I think that's going to be really exciting and fun."
Johnson feels this same excitement in taking on a new and crucial challenge at PHS, but there is so much that he will miss dearly about CHS after his life-long journey with the school.
"I love the third floor view and I love Kerrytown, but those things are cosmetic," Johnson said. "Those deeper things — the students, the staff and the [CHS] culture at large — are what I'll be missing the most."
Leave a Comment
About the Writers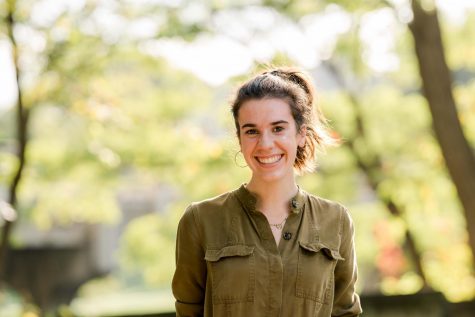 Felicity Rosa-Davies, Journalist
Felicity Rosa-Davies is a senior at Community High School. This is her first year on Communicator Staff, and has been an editor for the VOICE literary magazine for two years. When she's not in school, Felicity enjoys photography, going on late-night bike rides, and drinking peach bubble tea!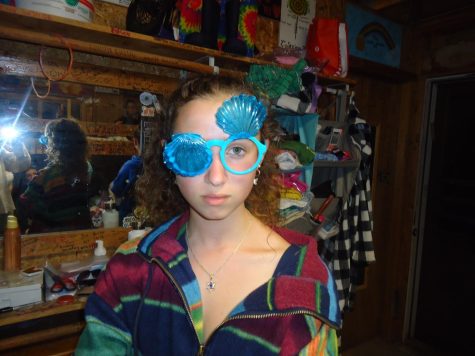 Scarlett London, Web Editor-In-Chief
Scarlett London is a senior at CHS. This is her seventh semester in journalism and her second year as Web Editor-in-Chief. When she's not editing articles or listening to music, she loves driving around with friends, watching movies, and looking at art. She loves dancing and spends time every day at the studio. She also sits on the teen editorial board for jGirls magazine. She has been involved with The Communicator since her freshman year and is excited to return as Editor-in-Chief this year!