To the Fallen Athlete
I was forced to embrace the feeling of bittersweetness this past year. And as I enter my second semester of senior year, I grapple with it now more than ever.
"Both pleasant and painful or regretful" is how Dictionary.com defines bittersweet. I couldn't agree more, except for how I would distribute the emotions. I am at 85% pain and 15% pleasure. And maybe I'm just masking up my emotions by calling this terrible burden of a feeling bittersweet — it's certainly the easy way out. But I'm really just bitter. 
Last year, I thought for sure by this time I would have everything figured out; I would know where I was playing college tennis and I'd be confidently making my way through the last 18 weeks of the school year, reveling in the glory of being a college athlete. But I'm not, and I'm so far from it. 
I started playing tennis when I was five years old. My grandma would tie a ball to a low-hanging branch in my front yard and give me a small, plastic blue racquet to hit it with. I would spend hours swinging at the ball, watching it fly away and come right back. My parents quickly enrolled me in tennis clinics and I excelled, out-hitting and overpowering kids my age. 
By the time I was ten, I was the 12U #1 ranked tennis player in New England; I had a full-time coach and was training four to five times a week. I was hitting with high schoolers who were five or six years older than me year-round, and I was traveling for tournaments with my dad once a month. 
I moved to Ann Arbor, MI at 12 years old and started a new chapter in my life. I took the summer off from tennis, feeling burnt out with no love for the game. At 13, I picked back up my racquets and found a local coach to hit with and a friend to play with. Soon enough, I was roped into training with University of Michigan tennis coaches, players from around the midwest, and at tennis clubs all over the state. By the summer before my freshman year, I had made big strides in my game; I competed at a few national tournaments and I could just sense myself breaking through in the near future. 
It's hard to be told that you're going to be the best, that you're going to make it big, only to end up where I am now.
In September of 2018, I broke my foot the week before I was set to play a national tournament in Grand Rapids. I remember the sheer disappointment I felt sitting on that hospital bed — the crinkly white paper sheet all torn up at the edges from where I had been fidgeting — when my doctor told me I would be sitting out for the next six weeks. I cried a lot that day, and perhaps it was even foreshadowing of the events that would unfold throughout the rest of my high school career.
For the next four years, a cascading series of intermittent and traumatic injuries would take over my life. Foot fractures, sprained ankles, hip apophysitis, strained rotator cuff. Whenever I got back into the groove, my body would flinch and I would be back at square one. 
The people I trained with at age 13 quickly surpassed me in ranking and ratings, found new training partners, and eventually even secured Division 1 spots at the best tennis schools around the country. And I was left in the dust, still wondering what I did wrong. 
I have shed my fair share of tears and experienced my fair share of sports psychologists and coaches and trainers so it is not like I didn't try. Maybe it was my constant glass-half-empty attitude. Maybe it was never rekindling my love for the game until it was too late. 
It's a bittersweet moment. 
Here I am, condensing 12 years worth of struggle and success into 150 characters on my Common App, about to let go of my five-year-old-self's dream, and feeling nothing but bittersweetness.
It's never been easy. It will never be easy. I hope by the end of this, I will have at least taken away the valuable life lessons of persevering when trying to get through hell. I pray the pain of the last twelve years of my life will only make me stronger as I move forward. 
To the fallen athlete: keep your head up. 
View Comments (1)
About the Writer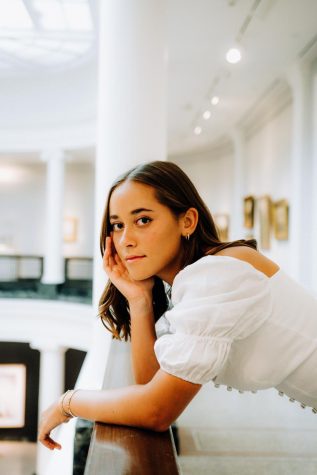 Mia Goldstein, Print Editor-in-Chief
Mia is a senior at Community High and this will be her second year as a Print EIC. Most of her time is spent on InDesign, fooling around with page design or making funky vector art on Illustrator. When she's not in the journalism room, you will either find her on the tennis court 80% of the time or with her black lab, Abby, the other 20% of the time. She's always up for a challenge. Bring it on senior year :)