Forged in Fire
As Ann Arbor's Fifth Avenue Fire Department's battalion chief, Derek Wisely's career nears an end, he reflects on his life's work.
39-year old Derek Wiseley had accepted his fate and was prepared to die, trapped on the third floor of a burning apartment building.
The Briarwood Lake Village apartment complex was struck by lightning in Aug. 2003. It was the second day of a national power deficit across the East Coast, and Wiseley was working a 48-hour double shift. His department got a call for a building fire that they could see from the station. Minutes after Wiseley got in the building, he and his colleague were stuck; the door behind them collapsed, burning their face and hand. Wiseley climbed out onto a balcony and started climbing down to the lowest point.
"It's called a hang and drop," Wiseley said. "Whenever you are jumping from a tall distance you
have to get to the lowest point you can to make the distance to the ground as short as possible."
As he put his leg over the railing, his coworker, Tom, yelled for him to come up as he had found a safer way out. Wiseley and his colleague followed Tom back into the building and climbed out of a bedroom window with a ladder set ready for them. As soon as he and his colleagues got out of the window, the apartment crumbled.
"There was a picture taken that showed the lit-up room as it collapsed when we were getting out," Wiseley said.
Wiseley has dreamed of becoming a firefighter since he was five years old. Growing up in Dexter, his dad's good friend introduced him to firefighting through the Dexter Fire Department. They had a close relationship; Wiseley has memories of them going to parades across the county at a young age. Wiseley looked up to his dad's friend and was inspired to be like him one day.
At the age of 19, Wiseley became what is known as a "part-paid" fire-fighter: someone who has a pager on them at all times and is permitted to leave their job whenever they are called to do so. After some time in the Dexter firefighting system, he applied to be a firefighter in Ann Arbor and landed at the Fifth Avenue Fire Department.
The training process in the early 80s was less rigorous than what it is now, Wiseley says. They called it "66-hour training," in which you would tally 66 hours of training in order to become a firefighter. In today's world, you need medical training to be hired as a firefighter, and it requires longer and more involved training. Wiseley spent one winter going to class on Tuesday and Thursday nights to get all his hours in and start his career.
The relationship Wiseley has with his colleagues is part of what makes his job so special to him. Prior to the apartment complex fire, Wiseley was in the middle of painting the exterior of his house. While he was severely burned and off work for three months, his crew surprised him and finished the paint job for him. Wiseley describes his relationship with his colleagues as a brotherhood.
"We spend 24 hours with each other and see things together that most people don't see. We're more than family," Wiseley said.
As much as Wiseley loves his job, it isn't all fun and games when in the station.
"A lot of people think we sit around and play games all day. The truth is when we're not fighting fires we still have a lot to get done."
At the station, it is important that all the trucks and any resources are always ready to go. When firefighters aren't checking the trucks, they are training, in meetings, or keeping their licenses up to date through regular online tests.
Wiseley and his crew travel to different cities in Michigan teaching adults and kids the basics of fire safety as well as how to deal with other fire-related problems. Wiseley says if all citizens kept their smoke detectors up to date and knew strategies like "stop, drop and roll" a lot of fires could be avoided. He also advises people to never try putting out a house fire by themself. Calling 9-1-1 is always the safest option; fires expand faster than people think.
As Wiseley gets older, he spends less time fighting fires and more time in the office. Wiseley plans on retiring next June, but will forever consider the station on 5th avenue his home. He will regularly come into the station to help out and talk to old friends.
"33% of my week is spent in the station and I've spent over half my life as a firefighter. I don't regret anything, and I wouldn't have spent my career any other way."
View Comments(1)
About the Writers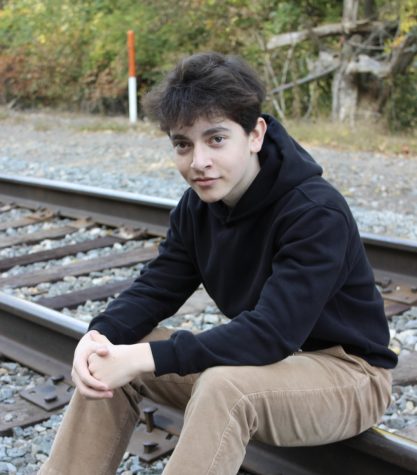 Lewis Perry, Feature Editor
Lewis Perry is a senior at Community High School in his fifth semester on staff. He is starting his first year on leadership as he takes on the role of Feature Editor for Web. When he's not listening to music, you can find him raving over new sports headlines, working out or claiming he has more time until he needs to start his homework.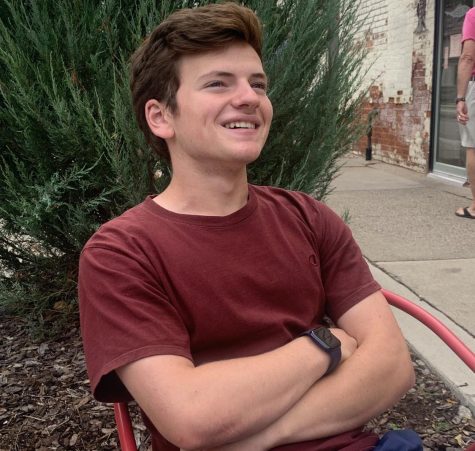 Kevin Dutton, Journalist
Kevin Dutton is a junior at Community and will be starting his third semester on staff. Kevin can be found walking his dog with his Airpods in, running at the YMCA,  or winning a game of MarioKart. Kevin is excited to be in-person for journalism this year!