"Gospel" Review
Along with the six other songs on the new Grand Theft Auto DLC: "The Contract" came "Gospel" with Dr. Dre and Eminem. Contrary to most Eminem verses, the tempo throughout "Gospel" is slow, but it's still hard hitting and sharp when Eminem wants to be. It highlights Dre's beginnings of a comeback in the music world after not having launched a project of his own since 2015. It also shines light on the skills that Eminem had and still has, even compared to today's rap standards.
For over two decades, Dr. Dre and Eminem have been pounding instrumentals with a fury like no other. Dre, who is credited with launching the West Coast beat-making and production culture, is no stranger to delivering a verse. Dre's recognizable voice and presence has been anything from a catalyst for club bangers to a suitable complement to anthems since the early 1990s. He is regarded as one of the most illustrious and distinguished producers/artists of all time and the hip hop community pays attention anytime he speaks.
As you may or may not know, Eminem is a fairly good rapper in his own right. He's one of the best-selling musicians on the planet, so it's not any big deal. Some demographics routinely rank Eminem in "Greatest Rapper Of All-Time" discussions, citing his inherent ability to rhyme anything in surprising patterns and odd rhythms. Dre and Eminiem are one of hip hop's most revered and explosive tag teams, with some outstanding contributions to the genre's history.
In this tune, Dre boasts a very forceful delivery while also mocking about his divorce, saying he's "just looking for his next gold digger." Eminem delivers exactly what is expected of him: an intra syllabic display of a skill that has been fine-tuned through time.
Eminem also managed to bring up his dispute with Machine Gun Kelly (MGK), but you'll have to pay careful attention to pick up on the subtle dig he gave.
It's cool to see Dr. Dre and Emninem getting recognition in this new digital way in the world of video games.
Leave a Comment
About the Contributor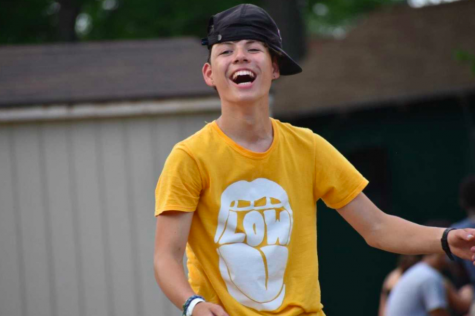 Oliver Lete-Straka, Journalist
Oliver Lete-Straka is in his second semester in journalism. He loves to talk to new people and try new things. Recently he has joined Pioneer's ultimate frisbee team and is excited to start new things in his senior year. He also rock climbs at Planet Rock with friends. He loves training in a fun way and getting together with his friends who are newly in college.