"An Evening With Silk Sonic" Review
A collaborative effort between eccentric pop-star Bruno Mars and critically-acclaimed artist and instrumentalist Anderson Paak, "An Evening With Silk Sonic" might have just become the best funk, soul and r&b record to release this year. With its golden glow radiating from every vocal harmony and melody, and shimmering production, the songs have undeniable personality. This 30-minute experience is packed with nine immaculate tracks, produced to perfection from beginning to end.
The project starts with a funk-riddled instrumental, as Bootsy Collins introduces Silk Sonic to the spotlight. From here, each track is impeccable in quality. Lead single "Leave The Door Open" is a luscious, smooth ballad, stacked with sensual countermelodies galore, a great opener for the experience. This is followed by the nasty bassline which starts off the track "Fly As Me", as Paak. and Mars give off this braggadocious aura, boasting as they sing the chorus "You deserve to be seen/ with somebody as fly as me."
While there's no track here that falls flat of what Silk Sonic aspires to achieve, the track that captures the essence of "An Evening With Silk Sonic" to its highest point has to be "Smokin' Out The Window." Everything about this track is perfect in the sense that it takes the best of the irresistible rhythms, the sultry instrumentation, and tongue-in-cheek verses that ooze with character, into a melting pot of pure gold.
While this album is one of my favorite musical experiences this year, there's still one factor holding it back from achieving "classic" status. While the album excels in its style and genre, it's very dependent on that sound and doesn't go out of its comfort zone at all. However, as a listener, it doesn't ultimately hold back the record much, only presented as a minor critique. While more sonically versatile and inventive albums came out this year, this is easily one of the most enjoyable and replayable, and is worth anyone's time to check out.
Leave a Comment
About the Writer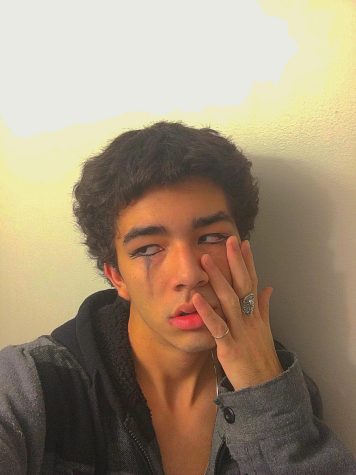 Evan Ochoa, A&E Editor
Evan "Gummy" Ochoa is a junior who's in their 4th semester of staff (A&E Editor). Gummy finds passion in dissecting pieces of art, specifically music. In their spare time, Gummy is an artist themself, producing, writing, and composing their own music under the moniker GVMMY, as well as plays in a jazz band as a drummer. Other hobbies include refereeing on weekends for little league soccer, playing Smash Bros. as Jigglypuff with friends, and recording music with other local artists.