The Influence of Yung Lean
Only a few rappers pushed the boundaries of style and sound for the rap music counterculture. Yung Lean is one of those rappers.
Unless you've been living under a rock, you're well aware that popular rap has a degree of homogeneity. Many have termed this approximation of sound "SoundCloud Rap." It has created a multitude of talent with each new personality pushing the bar higher.
Lean was one of the first to do it. Jonotan Håstad's work was a radical departure from the norm, and its impact on the industry was polarizing. Many reviewers regarded his music as illegitimate, describing it as "lacking content," lyrically sloppy and a stupid attempt to stand apart. Despite being primarily recognized as a meme, he established a cult following with fans eagerly anticipating the coming of the new wave.
Lean has grown as an artist since his debut in 2013, moving away from the "Sadboys." If you recall, Lean's lyrics from "Kyoto," "Greygoose" and other collections present his beginning signature vaporwave sounds and jumbled narratives created by foreign observation of American media and Hip-Hop. Since those early pieces, Lean has enhanced his lyricism and proven to the general audience that he is a force to be reckoned with.
Even if you were a huge Sadboys fan when "Ginseng Strip 2002" came out in 2013l, you may have forgotten about Yung Lean and have no idea he's still making music. However, if you've followed Lean's meteoric climb and influence –– purposely or not –– you may have heard "Leany" sounds and songs from some very popular artists such as Lil Peep and Juice WRLD. As a result, the once-lonely subgenre has grown into a more powerful network. Other notable artists — SpaceGhostPurrp, Lil B and Lil Ugly Mane, to name a few — also created turbulence in the early contemporary rap game, helping to establish the standard.
Lean is an influencer and a trendsetter. He has created sounds that modern rappers try and recreate, but fail to make a version that is unique to them. Still, Lean's underground and not well known amongst the majority even though he's collaborated with mainstream artists like Gucci Mane, Frank Ocean, and Kreayshawn.
It's been a long road for our Sadboy hero, who has published roughly 15 studio albums, EPs (extended play records) and LPs (long play records) without much recognition from the general rap consumer and you may not have liked Yung Lean, but I hope you remember him.
Leave a Comment
About the Writer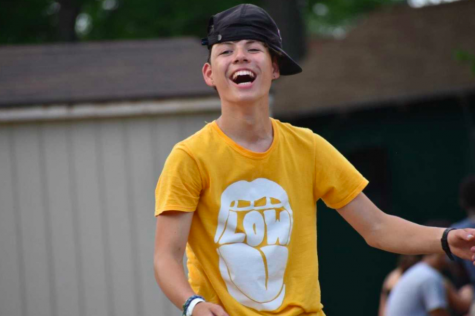 Oliver Lete-Straka, Journalist
Oliver Lete-Straka is in his second semester in journalism. He loves to talk to new people and try new things. Recently he has joined Pioneer's ultimate frisbee team and is excited to start new things in his senior year. He also rock climbs at Planet Rock with friends. He loves training in a fun way and getting together with his friends who are newly in college.