"Melt My Eyez, See Your Future" Review
Arguably one of the most influential, underlooked rappers and artists of the last decade, Denzel Curry hasn't faltered, consistently providing quality projects, one after another. Thus, it was no surprise this new album would be just as impressive. However, the increased subtlety and maturity of "Melt My Eyez, See Your Future" takes the listener on a journey unlike any other previous experience Denzel has offered us.
At first glance, it's obvious much of the upfront rage bangers are minimal in the tracklist. Despite this, though, that same intensity of emotion, paranoia, and fear are still very much present through its alluringly atmospheric compositions.
The intro perfectly represents this same feeling, with Denzel almost putting the listener in this therapy session, as he presents his regrets, traumas, aspirations, persistence, and theme of moving forward, which connects to the following track and lead single, "Walkin." Over his reflection plays these intricate drum rhythms and fills, as hypnotic layered vocals and jazz inspired chord progressions loop and set the tone for the experience to come.
From here, Denzel sets up the world presented as an unwelcoming environment, inspired by his own personal life and experiences. The run from "Worst Comes To Worst" to "Mental" is almost seamless, with their low-key production approach as it uses acoustic instruments to its benefit. This lumbering pace of songs gets picked up by the charismatic "Troubles," featuring what is probably my favorite guest appearance on the project, being T-Pain. His melodic, sultry delivery in contrasts to Denzel's rasp is interesting, nonetheless.
Following this is "Ain't No Way," which is a monster of a track, with beat switches, solid performances from Rico Nasty and J.I.D (just to name a few), and pummeling, driving production that is reminiscent of a cut from "TA13OO", fitting it all in a runtime of over 4 minutes.
Coming after this is a much-needed break from the heaviness, "X-Wing," a much more light-hearted sounding track, detailing topics of fame and jealousy. The last tracks, while not as consistent in tone, still garner highlights like the fast-paced, drum and bass riddled "Zatoichi," and the calm down and conclusion to the record "The Ills." The latter track wraps up the 14-song experience, taking all of its reflective themes into full circle.
Denzel has managed to reinvent his sound, better than ever. Some might be disappointed that the boldness and hard-hitting moments of his earlier and even recent material are minimal; however, much of the dark, yet complex themes have not waned. If anything, they've been further explored than they ever have been on any other project. This is easily his most thought out and mature material, which has me eager to see where this will take him in the future.
Consensus: "Melt My Eyez, See Your Future" sees Denzel Curry finding himself in a journey translated through music, as beautiful as it is haunting.
Score: 9/10
Leave a Comment
About the Writer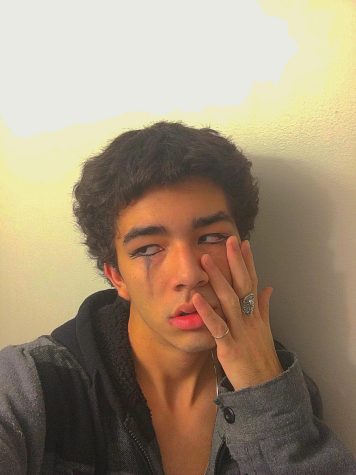 Evan Ochoa, A&E Editor
Evan "Gummy" Ochoa is a junior who's in their 4th semester of staff (A&E Editor). Gummy finds passion in dissecting pieces of art, specifically music. In their spare time, Gummy is an artist themself, producing, writing, and composing their own music under the moniker GVMMY, as well as plays in a jazz band as a drummer. Other hobbies include refereeing on weekends for little league soccer, playing Smash Bros. as Jigglypuff with friends, and recording music with other local artists.