Bad Bunny "Un Verano Sin Ti" Review
No matter how I've felt about previous Bad Bunny albums, one quality stays consistent: the element of surprise. From the psychedelic trap on "X 100PRE", to the rock and punk fusions scattered across "El Último Tour Del Mundo," there's always some sort of treasure hidden in these projects, buried under more standard, and sometimes monotonous reggaeton cuts. With that said, I had those same expectations going into "Un Verano Sin Ti" — and just like those previously mentioned projects, it looks like Bad Bunny still had more tricks up his sleeve.
"Un Verano Sin Ti" is an album surrounding the concept that it's being played at a beach party during the summer. This leads the album to input samples of seagulls and beach waves to immerse the listener in this environment. This includes songs venturing into reggae, latin jazz, and even mambo. With all this said, the trademark psychedelic reggaeton Bad Bunny has become widely hasn't in any way faded away in presence.
When Bad Bunny is at his most carefree mood, his charisma shines and elevates the project. For instance, "El Apagon" is another brash moment which takes place in the moment of a blackout, which has this turning into an all out party track. "Titi Me Pregunto" is a danceable, beat switching banger where Bad Bunny takes the perspective of a nephew who's bragging to his aunt about all the girlfriends he has. It's a prime example of how Bad Bunny's tongue in cheek delivery goes well with his image and style, as opposed to doing something that's supposed to be taken more seriously. Tapping into his immaturity while being self-aware of it is, for me, what makes Bad Bunny's music work.
As mentioned before, however, Bad Bunny is aware of his lack of maturity shown and contrasts these with more introspective and sonically beautiful moments like the ambient "Andrea" featuring the delicate croons of Buscabulla, as well as the song "Yo No Soy Celoso," where he takes on the persona of someone who's reflecting on their jealousy and toxicity, specifically on a relationship that ultimately didn't work out. As much as Bad Bunny is known for his childish and juvenile personality in his music, "Un Verano Sin Ti" sees him being more self aware of his immature actions.
Similarly to previous projects, however, "Un Verano Sin Ti" still shares the same moments and tracks that sound like they could be copies of their contemporaries. "Tarot", "Efecto", "Dos Mil 16", and "Un Ratito" are examples of songs that, while still have their interesting touches of psychedelic synths and production, tend to blend in with each other and any other modern, popular latin song. They act less like duds and more like filler, which, to be fair, was expected after looking at the album's 23-track count. It works as something in the background of a party, but not much else.
This project is surely a fun time that has some of the most replayable and catchiest moments from any release this year so far. For listeners, it's packed with summer anthems and is a welcome signifier of summer to come.
Consensus: Bad Bunny continues to evolve, surprise and be a prominent force in the popular latin music scene and culture — now with seagulls!
Score: 7/10
Leave a Comment
About the Writer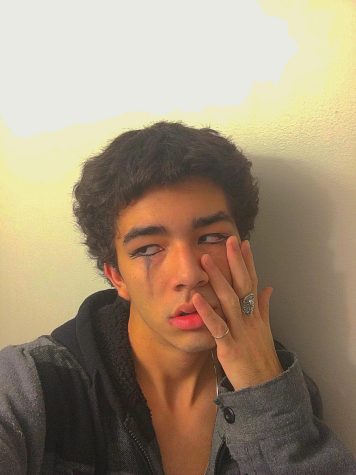 Evan Ochoa, A&E Editor
Evan "Gummy" Ochoa is a junior who's in their 4th semester of staff (A&E Editor). Gummy finds passion in dissecting pieces of art, specifically music. In their spare time, Gummy is an artist themself, producing, writing, and composing their own music under the moniker GVMMY, as well as plays in a jazz band as a drummer. Other hobbies include refereeing on weekends for little league soccer, playing Smash Bros. as Jigglypuff with friends, and recording music with other local artists.