We Will Be Next
Yesterday, 19 children and 2 adults were killed in an elementary school shooting in Uvalde, Texas. Today, millions of American children filed into classrooms across the country, wondering if they would be next. I am one of those children.
I am sitting in my journalism class, feeling broken and helpless and not knowing how to continue. Nineteen elementary school children are dead and the leaders of our country are sitting on their hands, sending thoughts and prayers and giving pretty speeches that ultimately will not change the way our country treats guns and human lives. And all I can think is how tired and scared I am.
The U.S. has more guns than it has citizens, and we also have the highest rate of mass shootings compared to our peer high-income countries. The shooting at Robb Elementary School is the U.S.'s 27th school shooting in 2022, and we are not even halfway through the year. Over 140 people have died this year from mass shootings, and that number will only continue to increase.
Reporting these facts, I find myself searching for an acceptable number of mass shootings. When we reach 15 shootings a year, will that be good enough? When only two people die in a mass shooting, will we be content with the work we have done? When only the minority of politicians are funded by gun organizations by the NRA, will we abolish all of our lobbying and funding laws?
Everytime American people die from controllable gun violence, I think it will finally be the awakening. The moment where our leaders and our communities realize that enough is enough, that we cannot keep going as if nothing has happened, that we cannot simply send thoughts and prayers. It hasn't happened yet, not when 17 high school students and staff were killed and 17 more injured at Marjory Stoneman Douglas High School in 2019. Not when four students were killed at Oxford High School, only 30 miles away from my hometown. And not when ten people were killed in a supermarket in Buffalo, New York, as targets of a racially motivated attack.
I don't have cause to believe this change will happen today, in the aftermath of this slaughter. I have let go of my hope and in its place I have taken up my power and raised my voice. I will no longer sit down and let the adults do nothing, yet again. I, and my peers and teachers, are done with the lack of action. We have voices, we are strong and we will not let ourselves, or anyone else, be next.
View Comments (1)
About the Writer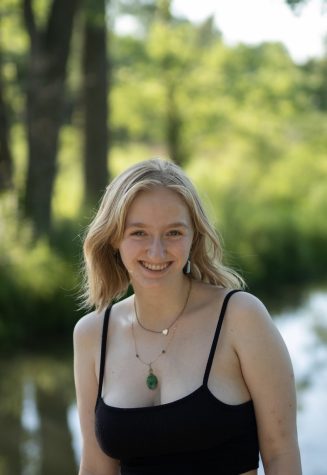 Ria Lowenschuss, Print Editor-in-Chief
Ria Lowenschuss cannot believe she is starting her fifth semester on staff, as a senior in high school! Ria loves Room 300 and everything that comes with it — especially words and chocolate chip cookies. She appreciates warm sweaters, reading good books, and bagels, and she can't wait to keep writing and telling true stories.