Ukrainian Community in Metro Detroit
Kyiv, Ukraine is 4,904 miles from Ann Arbor, Mich. 
This can feel like a world away; too far for anyone in our community to be affected by or take notice of. That's the powerful thing about a diaspora. The Ukrainian community of around 46,000 people in metro-Detroit have deep roots dating back to the 1880s.
Olga Liskiwskyi, executive director of the Ukrainian American Archives and Museum, grew up in a community immersed by Ukrainian culture. She was born on the west side of Detroit to Ukrainian immigrant parents fleeing their homeland. 
"Both of my parents immigrated from Ukraine after World War II," Liskiwskyi said. "They were both in Displaced Persons camps in the Allied zones of western Germany immediately following the end of the War…Fleeing persecution from the Soviets (Russian & Ukrainian) and the Nazis."
There were four main waves of Ukrainian immigration. The first being from 1882-1914, and the second wave was in 1914-1939. 
"By the mid-1930s [there were] some 25,000-30,000 Ukrainians in Michigan, most in Detroit or Hamtramck with enclaves in Grand Rapids, Flint, Saginaw, Lansing, and Muskegon," Liskiwsyki said. 
The third wave (1948-1950s) was Post-WWII and the last wave (1990s to the present) was the immigration of young people from a now independent Ukraine who were looking for a better economic climate. 
"Each successive immigration has built on the foundations established by the earlier arrivals, i.e. churches, schools and community organizations, including the establishment of self-reliance," Liskiwsyki said.
Though Liskiwskyi's parents were forced to leave their home, they brought their culture with them and this drew her closer to her identity. She attended Ukrainian language schools on Saturdays, went to the summer Ukrainian institute at Harvard University and worked for two years as the editor-in-chief of "Our Life," a monthly magazine published by the Ukrainian National Women's League of America. Liskiwsyki's current executive position at the Ukrainian American Archives and Museum is working to preserve and showcase the community's roots. 
"[We are] keeping the history of the culture alive not only for Ukrainian Americans but to be enjoyed by the wider public," Liskiwsyki. "We feature exhibits, retrospectives, workshops, concerts, tours and lectures."
Many Ukrainian-Americans in Detroit have personal connections to family or friends in Ukraine going through the ongoing conflict. Currently, Liskiwsyki has family in Kyiv that are fleeing the country and have been affected by the war firsthand. 
"[The war felt] abrupt, since they did not believe that Russia would attack in the brutal manner it did," Liskiwsyki said. "The war on Ukraine's territory in the east has been a distant reality since 2014." 
The last time Liskiwsyki went to Ukraine was in 2014. With the country currently in turmoil, the only things she can hold from it are her favorite treasured memories. 
"I remember visiting my grandfather's church (he was an Orthodox Christian priest – who are allowed to marry and have families)," Liskiwsyki said. "This Church was destroyed by the Soviets in the 1930s and throughout their rule, what was left of the church building was used for other purposes. I miss the beauty of the land and its people."
There are many ways students can help the current crisis. A prevalent grassroot organization supporting Ukraine is the UA crisis response. The organization was created prior to the start of the war. You can go to uacrisisresponse.org website for more information. 
Liskiwsyki urges everyone to recognize that the crisis isn't a Ukrainian issue but a global one. 
"If we support the concept of democracy, we need to understand that this will have a significant impact should Russia succeed in taking over Ukraine," Liskiwsyki said. "This invasion has brought Ukraine into focus for the rest of the world, but at what price? This is not the first time in history [this has happened]."
Leave a Comment
About the Writer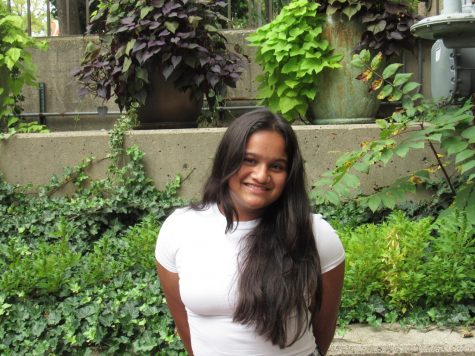 Izzie Jacob, Journalist
Izzie Jacob is a sophomore at Community and is thrilled to be starting her journalism career. When she's not watching Marvel movies or complaining about how short she is, she's usually listening to her playlist, which contains music from Harry Styles to Kendrick Lamar. After school, you can find her rowing for Huron or drinking a surplus of chai. Her favorite part of journalism is talking about issues that don't get enough attention and advocating for the rights of immigrants and women of color.