Beyoncé "RENAISSANCE" Review
No matter what you think of her, Beyoncé is an icon; a modern figure that is, in every way, undeniably embedded in our culture and music today. "Lemonade," her last album release, was perhaps the most emotionally mature Beyoncé has shown herself to be on a project. She displays themes of regret, infidelity, honesty, and acceptance, all related to events happening in her personal life. In a way, she puts a spin on the traditional "break-up" album and refuses to give a one-dimensional portrayal to the complicated process of working through a relationship.
With this in mind, we could only wonder what direction Beyoncé could go conceptually during her six-year hiatus. With "RENAISSANCE" finally out for the public to feast on, Beyoncé continues to hold her art to the high standards she's been showcasing for the past two projects. If "LEMONADE"'s stand-out quality is its raw, humanistic, and brutally honest writing and performance, "RENAISSANCE" basks in its vibrant, strobing colors and disco flair that is unapologetic throughout the entire record.
Beyoncé was able to wrap the essence of the explosive energy of the album in a bottle with "BREAK MY SOUL". Its constant, driving rhythms combined with Big Freedia's energetic vocal snippets capture the structure of house music, adding and removing elements throughout the track that gives off the feeling of an endless night of euphoria. Seeing how this energy runs throughout the entire album, it justifies its one-hour runtime, full of pulsating, vibrant synth-bass passages and a consistently passionate delivery from Beyoncé.
Despite the fluidity of the experience, each song has a unique quirk, which stands out beside the rest of the track list. "CUFF IT" is faithful to the nostalgia of the 70s disco era while still feeling fresh and modern; "VIRGO'S GROOVE" has a synth lead melody that is infectious as hell; "COZY" has, what to me is, the best bass groove on the album; "PURE/HONEY" is a two-part, feel-good banger, adopting many of the chopped-up vocal samples that "BREAK MY SOUL" showed off; "ENERGY" takes its afrobeat inspiration to make a texturally intriguing track with a bubbly feature from BEAM.
The list of highlights from "RENAISSANCE" continue in every pocket of its runtime. It's clear to see there was much care and appreciation put into the production of this album, making sure its portrayal and tribute to house music was done respectively by capturing its raw essence. While "RENAISSANCE" could be considered more one-dimensional in its writing compared to Beyoncé's last effort, it makes up for it in drama and style; on a musical level, this might be Beyoncé's most exciting project to date.
Leave a Comment
About the Writer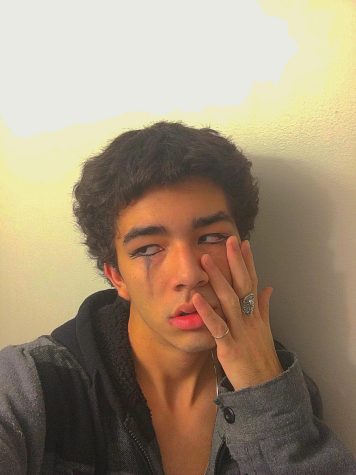 Evan Ochoa, A&E Editor
Evan "Gummy" Ochoa is a junior who's in their 4th semester of staff (A&E Editor). Gummy finds passion in dissecting pieces of art, specifically music. In their spare time, Gummy is an artist themself, producing, writing, and composing their own music under the moniker GVMMY, as well as plays in a jazz band as a drummer. Other hobbies include refereeing on weekends for little league soccer, playing Smash Bros. as Jigglypuff with friends, and recording music with other local artists.