Ann Arbor High School Sports Weekly Recap 9/26 -10/1
In the final week of September, we saw an exciting finish to the month for Ann Arbor high school sports. Ann Arbor schools hosted a variety of events this week, everything from a field hockey matchup between the two top teams in the state to an all-conference cross-country meet.
Our contest of the week was a field hockey matchup held Wednesday night at Skyline against cross-town rival Pioneer. This was the second matchup of the year for the Pioneers and the Eagles. The Pioneers entered the match with only one loss on their record, coming at the hands of the Eagles in their previous matchup in August. The Eagles had yet to lose and looked poised to keep their record perfect.
"They've always been our biggest competition," Johana Horvath, a Community student and junior midfielder for Skyline, said before the game. "The first game was really intense, but we have worked hard at our practices, playing at game speed to make sure we're focused."
Not only had the Eagles beaten the Pioneers earlier this season, but last year the two squads met in the state championship, where Skyline got their revenge from their two regular season losses against Pioneer. The Eagles won an overtime thriller against the top-seeded Pioneers to spoil Pioneer's perfect 16-0 record and snatch the state title.
"After last year's game I think we all felt like we were capable of more," Ellie Keen, a senior defender for Pioneer said. "That's why we're so determined now. We knew [the matchup] was going to be a good game and we went into it ready to work hard and give 100 percent."
The match was intense from the start but both teams struggled to find the net early. It was strong defense on both ends that propelled the first quarter to a scoreless finish. 
Both teams had strong offensive efforts at times, but it seemed like neither team had control for too long.
"At the half, the team was really determined to stay in the game and none of us were ready to give up," Keen said. "Our coaches reminded us that it takes seconds to score a goal, and there are a lot of seconds in a half. Getting a moment at the half to regroup, talk things through, and hear some words of wisdom from our coaches really helped us to keep going and stay focused for another 30 minutes."
Pioneer was able to end the scoring drought with a goal by junior Teddy Tolbert. However, the momentum didn't last for long, as Skyline added a quick two scores to pull ahead.
After more back and forth with great defensive efforts from both sides, Pioneer's Kate Soldan was able to connect off of a blocked stroke (penalty shot) to tie the match 2-2 heading into the fourth quarter.
"We've faced adversity before," Horvath said. "Saline was one of our biggest competitions. They really stepped up and challenged us, actually got up 2-0 against us. We know how to handle ourselves in those situations, and to come together as a team."
Skyline started off the fourth quarter hot with two goals, the first came from a stroke by junior Coco Courtright and the second score coming seconds later.
The nails seemed to be in the coffin for the Pioneers. As the clock winded down, it seemed the Eagles would defeat them in heartbreaking fashion yet again.
"A huge motivator for all of us is wanting to win the state championship," Keen said "When things get hard, we remind ourselves of that goal to help keep us going. We also all do a good job of giving words of encouragement to each other."
Pioneer was able to rally around each other and put together one final push late in the fourth quarter.
A stroke by senior captain Natalie Millman sparked life into the Pioneer team. Millman's goal was soon followed by another score to tie the game at 4-4 from sophomore Grace Grabowski.
As the final minutes ran off the clock Skyline was able to secure a penalty shot opportunity with just seconds remaining. The shot was deflected but put back and sunk in the back of the net as time expired by junior Cameron Wiseman. It appeared that the Eagles had the game won, but the referees deemed that time had run out before Wiseman's shot could be counted. The match ended in a 4-4 tie, leaving both sides unsatisfied and vying for another opportunity.
"Skyline is a really good team and we respect them a lot," Keen said. "If I know one thing for sure it's that my team has a lot of heart, which I know will be important if we were to meet Skyline again in the playoffs."
In the week's other action…
Pioneer hosted the second South-Eastern Conference (SEC) cross-country jamboree of the year Wednesday evening. On the boys' side, Skyline took first place, Pioneer took third, and Huron came in at fifth overall out of 7 teams. For the girls' side, Pioneer took first place, Skyline fourth, and Huron fifth.
In the week's volleyball action Huron lost one match against Saline and tied against North Farmington. Skyline beat Pioneer in three sets to improve to an overall record of 22-3 on the year and stay atop the conference rankings.
Pioneer continued to dominate in boy's soccer, winning all three of their matches on the week, against Ypsilanti Lincoln, Monroe, and Dexter. Through all three games the Pioneers only let up one score. Skyline tied 2-2 with Huron in their first game of the week and bounced back with a dominating win against Temperance Bedford. In addition to their draw with Skyline, Huron finished their week with two wins, against Ypsilanti Lincoln and Monroe.
Leave a Comment
About the Writer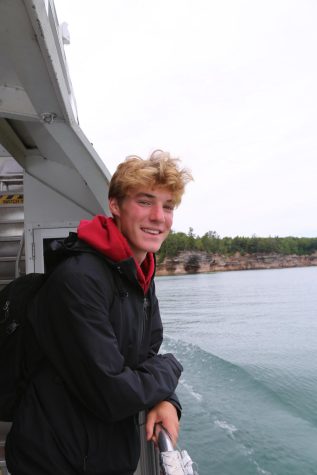 Kurt Hausman, Sports Editor
Kurt is a senior at Community and is entering his third year on staff, his first as the Sports Editor. His favorite part about journalism is writing about high school sports in the Ann Arbor community and being able to hear people's stories. When he's not writing he is playing football as a captain of the Ann Arbor Pioneer Varsity Football team, spending time outdoors with his friends, exercising, or working his part-time job at Stadium Hardware.