Skyline Women's Golf Goes To States For The First Time In Program History
On Oct. 13, the Skyline women's golf team piled into two eight-seater Ford Expeditions and made their way to Battle Creek, Michigan, for the MHSAA Division 1 State Championship. The Eagles had placed second out of a strong field of teams at Regionals a week earlier to earn their place at states as a team for the first time in the program's history. Ali O'Brien is a junior at Community and a member of the golf team for Skyline.
"When I found out we made it to states, I was surprised because our region is very hard," O'Brien said. "We have teams such as Northville, Saline, and Pioneer [in our region] — all teams that we've been going back and forth with the whole season."
The two-day championship consisted of a total of 36 holes played, and was held at Bedford Valley Golf Course. Having played the course earlier this year, the Eagles were already somewhat familiar with the course. Prior to the championship, they played a practice round of nine holes to refresh their memories.
"The practice round was a learning experience," O'Brien said. "For the first time playing [the course] in a while it was a little rough. But taking notes on what I needed to do a bit better was very key for me to do well during the next two days."
Skyline played their top five golfers: Helen Kucinski (12), Val von Rütte (12), Reva Patchava (11), Ali O'Brien (11) and Vedha Kakarla (9).
On the cold first day, most scores were higher than usual. Skyline shot a combined team score of 387. At the end of the day Skyline was sitting at 12th place out of the 18 team lineup.
"Friday was rough," O'Brien said. "I did not have the best round and it was mentally frustrating because I knew I could do better. I wasn't dialing in on what I needed to do, which was to slow down my shot, take deep breaths and focus on where I needed to be aiming. It was frustrating because I was looking at a score and I knew I could do better."
O'Brien and the team reflected on their day in a team meeting later that day with coaches Melissa Schmidt and Mary Packard. They resolved to do better.
"We didn't dial in on the match that was happening that day," O'Brien said. "It was just hard. We were kind of giving up in the middle because we were tired and with a state tournament going on you can't really do that. You have to hold strong for four or five hours and I guess we were kind of just slipping away hour by hour. We paid the price for it with higher scores than usual."
Saturday morning O'Brien knew she had something to prove. She wanted to show that she deserved to be at states and that she could shoot lower scores than the day before. This positive mentality led to a better outcome for O'Brien. She took off nine strokes from the day before to shoot a 90.
"Saturday was so much better than Friday," O'Brien said. "I'm proud of myself because I was able to shave multiple strokes off from the day before and have fun with it as well. I was in a more clear mental state."
Skyline had a much better day overall on Saturday as well. The team fired up a score of 371 – still above their average– but a large improvement on the day before. The team shot an overall score of 758 and took 12th place overall. Although this wasn't the score they were hoping for, O'Brien says the trip wasn't only about golf.
"I had one of the best weekend's with my team," O'Brien said. "I wouldn't trade it for the world. Even just the little things like the hotel room and the breakfast are special. Being at states for the first time as a team was also an incredible experience and it's something that I'll never forget."
Leave a Comment
About the Writer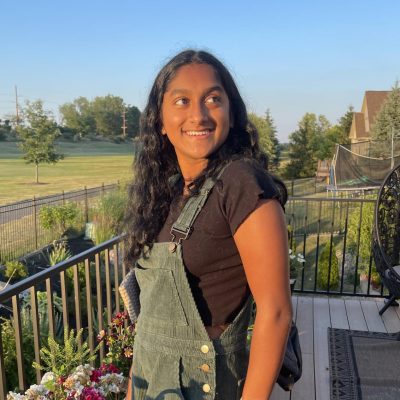 Anjali Kakarla, Web Editor-In-Chief
Anjali Kakarla is a senior who split-enrolls between Community and Skyline. This is her seventh semester on staff and her third as one of the Web-Editors-In-Chief. When she's not doing schoolwork, playing basketball and golf, or running track for Skyline, she enjoys hanging out with her friends, listening to music and baking. She loves to write and is very excited for journalism this year!