Focusing on the Journey: The Pioneer Field Hockey Season
For the Pioneer field hockey team, this season is not about winning and losing. It is about the power of connection and the desire for growth.
This fall, Pioneer field hockey carries on its tradition of hard work and passion with a team of driven and united athletes. Dedication for the sport, and for each other, is one of their anchoring principles that brings the girls from being a team to being a family.
"We all know that we got each other's backs," Jane Nixon, the head varsity field hockey coach said. "We're there for each other no matter what that looks like. We may not all be best friends, but we're family."
Last year, the Pioneers had a great season. Led by a strong group of seniors, they held an impressive record of 15-0. At states, the team fell just short of the title, losing to Skyline in the championship game—their only loss of the season, but Nixon and the team didn't let this bring them down.
"[The losses are] not what defines you," Nixon said. "It's the journey. It's all the relationships and friendships you make along the way, learning how to manage adversity and waking up the next day, believing and having hope."
The team's record so far this season is 4-1, winning against two teams in Washtenaw County; Huron and Saline High School. According to Nixon, most of the dominant teams in the state—and their biggest competition—are in Washtenaw County, especially Ann Arbor.
Right now, their focus isn't on states. The team is taking it one game at a time, making sure they give their best every time they step onto the field.
"We don't want to get ahead of ourselves," Nixon said. "We just want to make sure we're doing our best. We're enjoying this journey. We're taking care of every day, and really appreciating and loving what we're doing each day. That's really our focus."
Sofi Maranda, a senior at Community, is on Pioneer's varsity team for the first time this year. She plays for enjoyment and for the positive team environment. Although field hockey isn't her main sport, she never fails to give it her all in practices and in games.
"I like the space to not have to think about anything that much," Maranda said. "I have two-hour practices, and during that time I focus on working out, practicing or being with my teammates, and not thinking about the stress of school, and stuff like that."
Pioneer is still in the early weeks of their young season, but they feel confident and prepared for the challenges they will face ahead
"We've done a really good job of staying strong and learning from each game. So far, so good," Nixon said.
Leave a Comment
About the Writer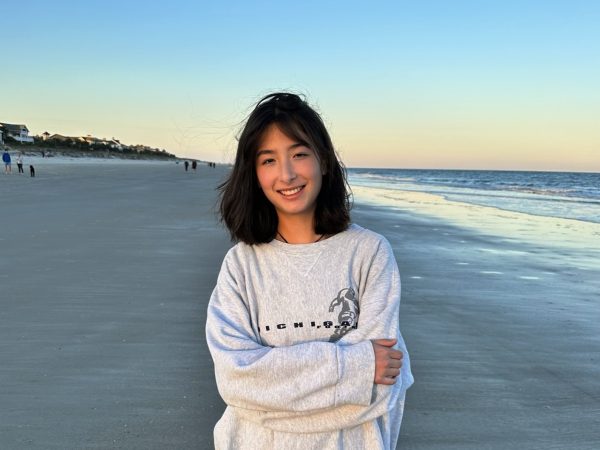 Bridgette Kelly, Feature Editor
Bridgette Kelly is a senior continuing her second year on staff. She enjoys playing tennis, eating good food and taking walks.