Kid Cudi's "Entergalactic" Review
In partnership with Netflix, "Entergalactic," a project created by Scott Mescudi AKA Kid Cudi and Kenya Barris, was released on Sept. 30th, 2022. The film revolves around a simple, yet effective rom-com storyline, with animation containing the vibrancy of a superhero comic. Unconventional in its approach to storytelling, "Entergalactic" feels more like an hour-and-a-half music video rather than a feature film.
The film is accompanied by an album of the same title which is the most essential quirk of this experiment. The psychedelic hip-hop that swirls in Cudi's signature deep hums and echoing synth melodies that could fill up an entire universe result in surreal, cinematic scenes that encapsulate the viewer into Cudi's mirage.
Its effectiveness in invoking these euphoric feelings, however, is stripped when isolated from its counterpart. Lead singles "Do What I Want" and "Willing To Trust," along with other tracks on the album, feel like disjointed scraps from the cutting room floor of the sessions for Cudi's previous album "Man On The Moon lll." The bar doesn't ever dip too low, but it makes way for a number of tracks that feel forgettable. At times, the energy feels like it was sucked away, mirroring a shriveled version of its predecessor.
This isn't to say, however, that it doesn't have its fair share of moments that pick up the pace. "Can't Believe It" with 2 Chainz, while not particularly interesting in concept, manages to execute a nocturnal anthem, with its sparse instrumentation and Cudi's deep voice rumbling through the track. "Ignite The Love" is opposite in tone, yet comes through with a similarly effective experience as a passionate Cudi channels a jubilation that rivals one of a child-like crush.
Even if "Entergalactic" feels like B-Sides to a previous album, it's still relatively harmless and surprisingly enjoyable at times. "Entergalactic" is the perfect album for late-night drives with dim yellowish streetlights and the glowing moon being your only source of luminance.
Leave a Comment
About the Writer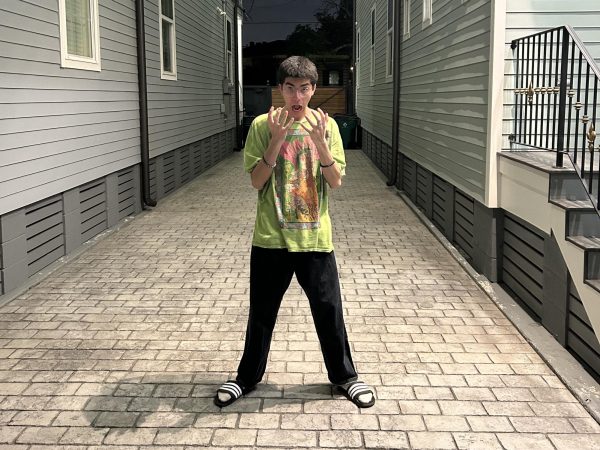 Evan "Gummy" Ochoa, Specialized Journalist
Evan "Gummy" Ochoa is a senior at CHS who's in their 5th semester of Journalism. Gummy finds passion in dissecting pieces of art, specifically music. In their spare time, Gummy is an artist themself, producing, writing, and composing their own music under the moniker GVMMY, as well as plays in a jazz band as a drummer. Other hobbies include being a camp counselor, doing DJ gigs at private events, and recording music with other local artists.