Ann Arbor High School Sports Weekly Recap 12/5 – 12/11
Winter sports have officially arrived. Ann Arbor basketball teams took to the court for the first time this season, and hockey teams continued in their young season.
Our match of the week featured an opening night boys basketball game between Ann Arbor Pioneer and Farmington. On Dec. 6 The Pioneers were at home for the commencement of their season. Following a season of inconsistency, the Pioneers looked to set the standard early on Tuesday night.
"We're excited to get things started," Antonio Cristian, a senior forward for Pioneer, said prior to the game. "It feels like we've just been practicing forever, and getting the chance to go against another team can't come soon enough. We opened at Farmington last year and won, so there's this kind of feeling to defend our home court tonight."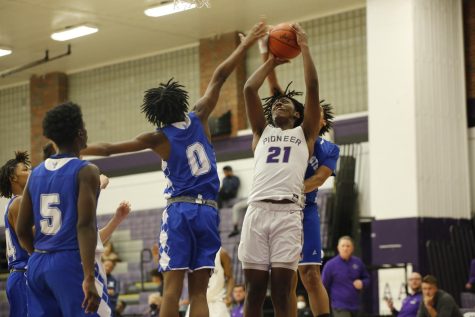 The Pioneers were led by strong senior leadership last year. With holes to fill on the roster, head coach Rich Marion, turned to younger players on the roster to step up –and they certainly did. Junior Nelson Sompa made his first varsity appearance, starting at point guard for the Pioneers. Despite lacking varsity experience, the young floor general held excellent composure handling the ball and helped facilitate the Pioneers to 63 points of offense..
"Chemistry off the court, it's definitely there," Cristian said. "We played a lot together during summer league and got the chance to get a feel for each other's game and mesh as a team, but core chemistry is gonna come along as we play more together like in actual games."
In addition to Sompa, the Pioneers started one other junior: Nate Freisthler. If this team wants to make a playoff run this year, Freisthler will have to be the difference maker. Standing at 6'9", the versatile stretch four provides a defensive nightmare for any opposition.
"Filling the holes of the seniors last year will be tough," Cristian said. "The guys we have coming up are very talented and I think as long as we kind of take them under our wing, we can develop into a really good team as the season goes on."
The Pioneers seemed to show flashes of midseason form on Tuesday night. They proved to be dangerous shooting from range, having stretches of knocking down multiple three pointers. The team finished at 47 percent from beyond the arc. Cristian attributes the strong team performance as a result of a highly competitive practice environment.
"
"Filling the holes of the seniors last year will be tough. But, the guys we have coming up are very talented and I think as long as we kind of take them under our wing, we can develop into a really good team as the season goes on."
— Antonio Cristian
"It was a pretty senior dominated team last year," Cristian said. "We've got a lot of juniors this year and seniors who didn't play last year that have a strong chance to play real minutes this year. One thing I like about this team is that people have been locked in on competing. No matter what their role is, they're giving effort. There's a couple of positions that are up for grabs and could go either way. But we're just competing, competing every day."
While there were moments of excellence from the Pioneers, there were also instances where inexperience bled through. The game proved to be a representation of last year's team –an up and down journey. The Pioneers leaned on senior leadership down the stretch to fend off late attacks from Farmington and pull ahead for a victory of 63-45.
"It was the little stuff on defense,"Cristian said. "Helping, communicating, stuff like that. That's the stuff that's gonna win you early games. Making sure our fundamentals are good before we progress into the conference season."
While still very early in the season, the Pioneers proved that they are a team to be taken seriously. The composure of such a young team demonstrates that they will be a scary matchup for any opponent as the season goes on.
"We want to make a statement about being a good team," Cristian said. "I think we definitely have the composure and experience to handle these moments. Once we get in a tough battle tested game, we'll really see what we're all about, and I'm excited to be there. And once we figure it out, then that'll just be a notch on our belt."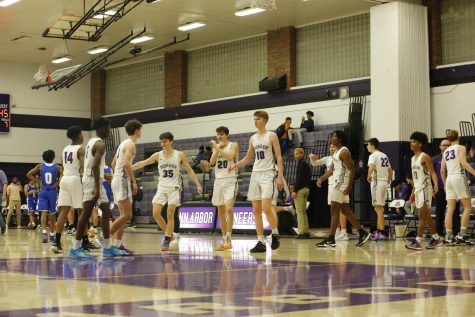 The Pioneers finished out their week with a thumping win at home 60-40 against conference opponent Monroe.
In the weeks other action:
The Huron boys basketball team beat Saline 63-56 in their first game of the year. The Skyline boys team beat Northville 48-34.
On the girls side, the Pioneers split their contests on the week, losing against Dewitt and beating Monroe on the road 29-20. The Skyline girls team moved to 1-3 overall with their lone win coming against Ypsilanti Community. The Huron girls team dropped their first game of the season after starting on a three game win streak, bringing their record to 3-1.
On the rink the Pioneer boys team are yet to find their first win, dropping to 0-7 on the year. The Huron boys team improved to 4-4 after getting two straight wins last week, one of which came in a penalty shootout against Skyline. That loss handed Skyline their first of the year and they finished out the week with a loss to Saline before getting back on track by beating Pioneer to bring their record to 4-2.
Leave a Comment
About the Writer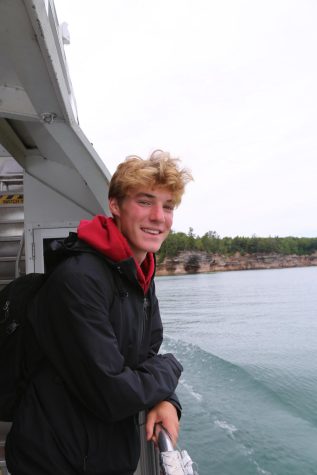 Kurt Hausman, Sports Editor
Kurt is a senior at Community and is entering his third year on staff, his first as the Sports Editor. His favorite part about journalism is writing about high school sports in the Ann Arbor community and being able to hear people's stories. When he's not writing he is playing football as a captain of the Ann Arbor Pioneer Varsity Football team, spending time outdoors with his friends, exercising, or working his part-time job at Stadium Hardware.