"23" Review
Before making the leap across the pond, U.K. Rapper Oakley Neil H T Caesar-Su, better known as Central Cee, released his project "23." Coming off his last project "Wild West," which had massive success in the U.K., Cee has been ascending to new levels of fame through the popularity of his music on TikTok, a Lyrical Lemonade music video and a Genius Verified interview. "23" has a wide variety of sounds from Cee—many songs stand out in their own way and can be an entry point for many who are new to U.K. rap.
"Obsessed With You," is the biggest hit on the album. The song samples the PinkPanthers' song "Just For Me," which fits perfectly as a secondary vocal to Cee's rapping. Cee's rapping is slowed down in this song and there is more emotion in his lyrics. Combining a great sample with the emotion he is able to convey in his lyrics, "Obsessed With You," is a stand-out song on the album.
The third song on the album, "Ungrateful," tells the story of Cee's career to this point. While he loves the spotlight, he also has some resentment towards it. Cee shouts out many rappers that helped him get to this place he's at. "Ungrateful," shows the duality of fame that not many artists talk about, which makes this song a unique take for listeners to hear.
One of the best songs on the album comes as the closer. "End of the Beginning," produced by award winning artist Dave, concludes the album with a song reminiscent of Dave's latest album "We're All Alone in This Together." It has a slow start, then a rapid change in tempo which is a new sound for Cee adding a new level of depth of sound to the album.
Overall, the album has a pattern of the slower songs being some of the best on the album. Songs like "Khabib" and "Bunda" are great in many ways, but Cee shines the best on his songs "Ungrateful" and "Obsessed With You," with more meaning in his lyrics and a slower pace. With the rapid growth of Central Cee, expect this album to become a highlight of his career.
Leave a Comment
About the Contributor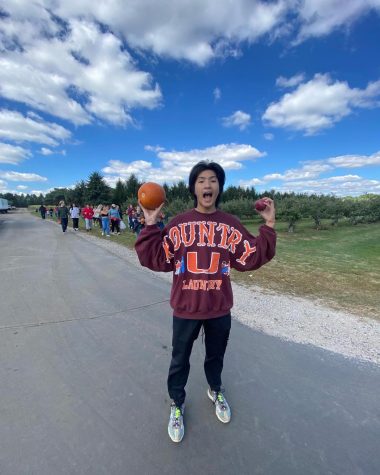 Sam Cao, Social Media Editor-in-Chief
Sam is in his third year on staff and his second year as a social media editor-in-chief. When he's not in room 300 you may catch him playing lacrosse at Pioneer, or enjoying bubble tea at a multitude of locations excluding Jasmine Bubble Tea.