Ann Arbor High School Weekly Sports Update 1/16 – 1/21
On Thursday, Jan. 19, the Ann Arbor Pioneer wrestling team hosted a dual meet featuring three of their SEC conference opponents: Pinckney, Chelsea and Saline. This was the fourth conference meet for the Pioneers this season, their first and only home match of the year. This is the Pioneer Wrestling team's first year back from a one year hiatus, which forced Pioneer wrestlers to join neighboring school Ann Arbor Skyline. For CHS senior Raffi Avedissian, wrestling for his home school this year has motivated him to work hard for the future of his program.
"I feel like as a senior, it's good to have [Pioneer Wrestling] back for my final year," Avedissian said. "I also feel like there is a bit of a pressure to set a standard for our program. We only have four or five seniors [on the team] this year, most of the kids are underclassmen, but I think the future is looking bright for Pioneer wrestling"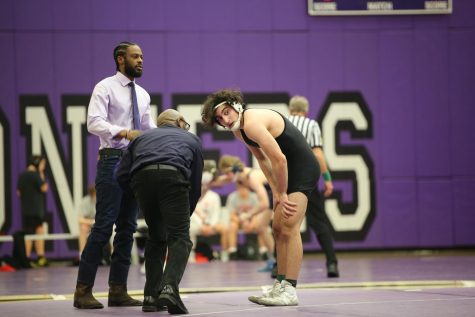 Avedissian credits much of the growth of the program to the Pioneer's new coach, John Fisher. Fisher, a former All-American University of Michigan All-American and Olympic alternate wrestler, has been coaching in Ann Arbor for a number of years at Slauson Junior High School, but is in his first year at Pioneer.
"He's done a great job recruiting new kids and kids who he's coached in the past to come wrestle," Avedissian said. "He's the type of coach that kids want to play and compete for. I've learned so many technical details from him just this year. In addition to himself, he has also brought in a lot of experienced coaches."
Avedissian feels bittersweet about leaving the program at the end this season.
"It's hard to trust that the program is solidified," Avedisian said. "It's nothing to do with coaching or anything like that, but considering just one season ago we were told that we didn't have a team and we had to go wrestle for Skyline, it kind of feels like it's our job to make sure that there is a Pioneer Wrestling for the future."
"
It's hard to trust that the program is solidified. Considering just one season ago we were told that we didn't have a team and we had to go wrestle for Skyline, it feels like it's our job to make sure that there is a Pioneer Wrestling for the future.
— Raffi Avedissian
While Avedissian is concerned about the future of his team, both on and off the mat, he believes that the program has the right people to make it succeed.
"[This year] I have an obligation to teach as much as I can to the underclassmen and develop them," Avedissian said. "I have faith in our new coaching staff and It's nice to know that when the rest of the seniors and I leave, Pioneer Wrestling is still going to be in good hands."
While the progress towards building a program from the ground up might not be showing up yet on the score sheet as much as the Pioneers had hoped, Avedissian is optimistic about the future of the program.
"I started wrestling just to get better at football," Avedissian said. "It quickly became my main sport and I ended up giving up football. I think a lot of the younger kids are in a similar situation I was in. They're just giving wrestling a shot and it seems like they're enthusiastic about learning the sport."
The Pioneers are entering their final weeks of dual meets before they compete in the SEC and district tournaments.
In the week's other news…
On the hardwood, the Pioneer boys basketball team hosted Huron for the two teams first match against each other this season. Huron throttled Pioneer 52-30 continuing their undefeated season, only one of five teams in division one in the state to do so. The Skyline boys team split their matches on the week, losing 50-48 against Ypsilanti Lincoln and beating Dexter 54-23.
In girls hoops, Pioneer and Huron also met for their first contest against each other. Pioneer prevailed by a score of 36-24, increasing their win streak to three straight games. Skyline lost their only match of this week 54-20 against Dexter.
For boys hockey this week the Huron Boys split their games, a 2-1 overtime win against Milford and a 4-6 loss against Dexter. Skyline Boys dropped both of their contests this week, a 6-2 loss against Anchor Bay in the MAC Showcase and an 8-0 loss against Chelsea. The Pioneer boys also lost both contests this week.
Ann Arbor teams were active in the pool as well. The Pioneer boys team competed against Groves on Saturday, winning the meet 109-67. The Skyline boys team beat Huron 118-65. Huron bounced back the following day beating Brother Rice 110-70.
Leave a Comment
About the Writer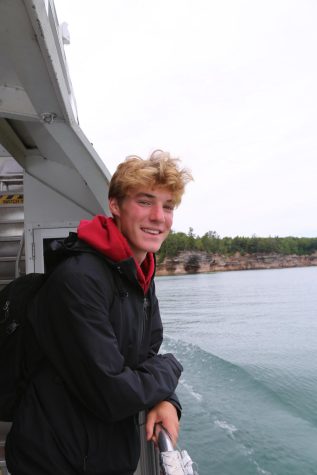 Kurt Hausman, Sports Editor
Kurt is a senior at Community and is entering his third year on staff, his first as the Sports Editor. His favorite part about journalism is writing about high school sports in the Ann Arbor community and being able to hear people's stories. When he's not writing he is playing football as a captain of the Ann Arbor Pioneer Varsity Football team, spending time outdoors with his friends, exercising, or working his part-time job at Stadium Hardware.