Boygenius is Back, Baby
The notification came in the midst of a calculus study session. My brows were furrowed as I glared at a flash card asking me about the derivative of secant when my phone pinged with an email from Phoebe Bridgers that said, simply, "preorder." Above it was a picture of three arms outstretched.
As a Phoebe Bridgers aficionado, the news of new music came as no surprise. I, like the rest of her fans, had been following every article and reading into every Instagram story to see into the future — we knew it was coming. However, the reunion of Bridgers' partnership with Lucy Dacus and Julien Baker, also known as the band boygenius, was absolutely mindblowing.
Boygenius first recorded together in 2018, when they released their self-titled EP to excitement and acclaim. Now, after nearly five years of fans begging them to reunite, they announced their debut album, coming out March 31, with three new singles.
"
As a Phoebe Bridgers aficionado, the news of new music came as no surprise.
I know every lyric to every Phoebe Bridgers song. I began listening to her in the beginning of the pandemic, as a 15-year-old with the world collapsing around me and nowhere to go. I turned to "Kyoto" when my anxiety got the better of me, blasting it in the car until the trumpets took over my thoughts. Now, as I deal with my first break up, "Summer's End" and "Would You Rather" are getting me through the heartbreak, letting me share my sadness with the singer's disembodied voice.
From Phoebe, I found my way to boygenius. I was new to the party — it turned out that boygenius was already surrounded by oodles upon oodles of superfans, waiting impatiently for them to get back together. I was out of my depth; I had come for Phoebe and found boygenius' EP: six heartbreaking songs with genius lyrics and melancholy melodies.
Now, I am one of those superfans and the first three singles of "the record," boygenius' first album, have already surpassed my highest expectations.
"The record" begins with "$20," written and sung by Julien Baker, featuring her signature rocker lyrics and killer guitar riffs. You can't help but smile and move to the music as Baker rages about her "bad idea." Baker stuns with her one-liners; "In another life we were arsonists" is followed immediately by the hilarious "How long's the Chevy been on cinder blocks?" The song drags you across an emotional spectrum, from rage to hilarity to hopelessness.
"
"The record" begins with "$20," written and sung by Julien Baker, featuring her signature rocker lyrics and killer guitar riffs.
"Emily I'm Sorry," the second single, was written and sung by Phoebe Bridgers. She sent it to Dacus and Baker in June 2020, after releasing her album "Punisher." It is pure Bridgers, her signature morose lyrics and guitar chords with an added twist of rock — Baker appears when the beat drops and Dacus is present in the harmonies. "Emily I'm Sorry" is a snowstorm outside the window; you're safe inside, but only for now, which can be seen in the lyrics, "We can burn out in the freezing cold/And just get lost."
My mother, unlike myself, is not a Phoebe Bridgers fan — although I've dragged her to many Bridgers concerts, she hasn't caught the bug. Boygenius, however, is another story. Now, I sit with my mom, listening to "True Blue," sung by Lucy Dacus. "True Blue" is my mother's kind of song; deep, well-thought-out lyrics backed by gorgeous guitar. "Rolling Stone" has already named the lyrics "You say you're a winter bitch/But summer's in your blood/You can't help but become the sun" as some of the best of 2023 — in January.
Boygenius, dubbed "the world's most exciting supergroup" by "Rolling Stone," has already delivered three out-of-this-world songs. I can't wait to see what their full-length album will bring.
Leave a Comment
About the Writer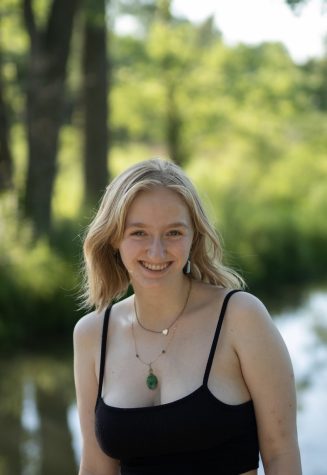 Ria Lowenschuss, Print Editor-in-Chief
Ria Lowenschuss cannot believe she is starting her fifth semester on staff, as a senior in high school! Ria loves Room 300 and everything that comes with it — especially words and chocolate chip cookies. She appreciates warm sweaters, reading good books, and bagels, and she can't wait to keep writing and telling true stories.