"Red Moon In Venus" Review
In her third studio album, Red Moon In Venus, 28 year old Colombian-American singer-songwriter Kali Uchis transports us to a mystical place filled with slow melodies and harmonizing vocals.  
Released on March 3, 2023, the album is composed of 15 songs and runs a little over 40 minutes. It features collaborations with Summer Walker, Omar Opallo and Don Toliver.
When talking about the album in an interview with NPR, Kali describes the feminine energy she put into the album while explaining the title. 
"It's about love, so Venus felt, like, obvious for me," Uchis said. "And then red moon — it just felt like the energy. I felt like red encapsulated the entire body of work. And the moon — I'm guided by the moon." 
Uchis began making music at a young age and self-released her first mixtape, "Drunken Babble," in 2012. Since then, she has gained popularity from her collaborations with artists such as Tyler The Creator and Snoop Dogg, who helped her boost her popularity as well as sign with a major label.
The album blends various genres, including R&B, pop, reggaeton and funk, and it showcases Uchis's ability to seamlessly switch between languages, singing in English and Spanish throughout the album. 
"I don't really think too much about genres when I'm creating," Uchis said. "It's more so what I wanted to give. I wanted it to feel timeless. I wanted it to feel romantic." 
Some of the standout songs were the slow and sensual "Moonlight" and the lead single "I Wish You Roses," both released as singles before the full album was released. Additionally, my favorites within the album were "Moral Conscience" and "Love Between…" Uchis achieved her vision for this album, and her talent is noticeable. Every song in this album is uniquely wonderful while still having Uchis' classic style – a style mainly achieved by her vocals. Mystical and feminine, Red Moon In Venus is a perfect album for spring. Uchis begins touring her album at the end of this month, with 21 performances across the country.
Uchis has been recognized for her work, receiving multiple nominations and awards, including a Latin Grammy nomination for Best New Artist in 2017. She continues to collaborate with a diverse range of artists and push the boundaries of genre and style in her music. Overall, "Red Moon in Venus" is a cohesive and impressive album that showcases Kali Uchis's growth and versatility as an artist.
Leave a Comment
About the Writer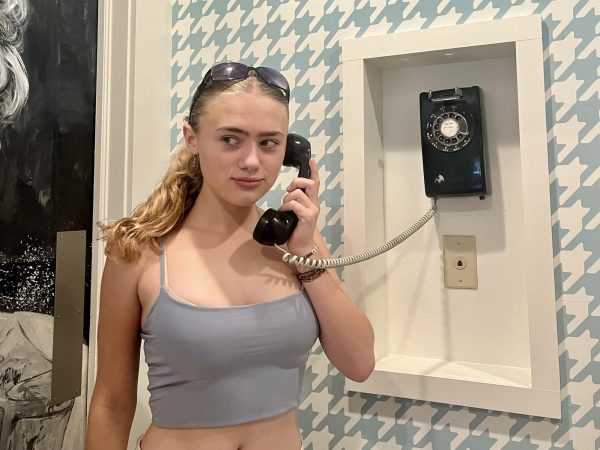 Leila Durrie, Video Producer
Leila Durrie is a Junior and entering her second year in Journalism. When not focusing on school, Leila enjoys doing theatre, being outside in nature (preferably at the beach), thrifting for funky clothes, drinking iced matcha lattes, and spending time with her friends. Leila loves all things music, and can often be found making Spotify playlists with her airpods in. She is so excited about journalism this year and looking forward to focusing on multimedia!