Senior Edition Distribution
On Monday May 22, the last Communicator magazine distribution of the 2022-23 school year took place during first block. As students filed out of their classes eager to flip through the pages, they were met with Communicator staff members handing them the senior edition of the magazine.
The time-honored tradition of Senior Edition came around once more to celebrate the graduating class of 2023. Just as it has been for years, the edition was covered front and back with portraits of seniors posing under parasols and mugging for the camera under enormous prop hats and sunglasses. In addition to the magazine's normal coverage, Senior Edition featured old Common Application essays, 'letters home' from former graduates, and a profile of each and every one of the school's graduating seniors.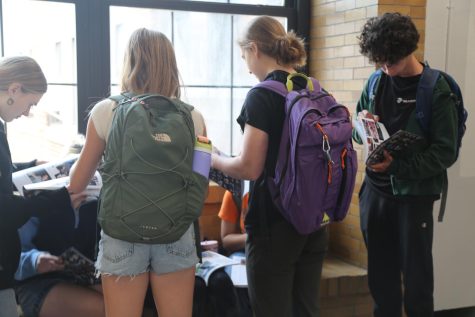 The senior profiles, in particular, remained a favorite of CHS staff both old and new. Longtime CHS science teacher Marcy McCormick has seen many senior editions come and go, but the senior profiles remain the part of the magazine she looks to first.  
"I think hearing in a student's own words what they're going to remember and those special moments that really stand out, I think, are just really beautiful to read," McCormick said. "Every student's story becomes celebrated and gets shared, you know, much more than other high school experiences. And that's really cool."
As a newer teacher, Sean Eldon was interested to learn about parts of seniors' lives not necessarily visible from the classroom— the childhood friendships, athletic accomplishments, and artistic growth featured in the magazine allowed Eldon to see a new side of the students in his class. Eldon also sees the senior profiles, and Senior Edition in general, as something very special to CHS. 
"For the students whom I had in class, I could really hear their voices, and so it was exciting to just listen to them," Eldon said. "A lot of the quotes were really extensive, rather than catch phrases or buzz phrases or quips, and I think the extensive quality helped me understand them as people."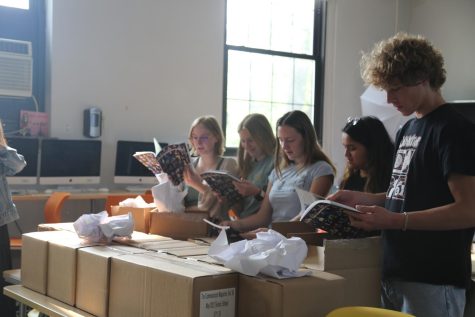 This public exploration of seniors' lives would not have been possible without the print Editor-in-Chiefs, who are responsible for making sure the edition comes together and can be printed.
"[The senior edition] has been a tradition for a long time," Ria Lowenschuss, CHS senior and Editor-in-Chief of the Communicator magazine said. "It's something to look forward to and celebrate as we near the end of the school year."
This is the last edition for senior Elliot Bramson, another print Editor-in-Chief of The Communicator.
"It was kind of hard to let [the Senior Edition] go because every time we finished an edition in the past, like there's always been another one. And so with this one being the last one it just felt weird because it was like 'wow, that's the last time I'm going to get on InDesign and work on the magazine.' So yeah, it was sad," Bramson said.
The class of 2023 will graduate on June 2, leaving their CHS careers behind once and for all. Senior Edition, though, will be back in a year's time, as it always has and always will.
Leave a Comment