The National Park Service protects the story of America – its history and the triumphs, but also the tragedies – its landscapes sparking a direct, emotional connection with their visitors.
Kendra Tustin, 32, a digital content creator, visited her first national park amid the pandemic, desperate to escape the feeling of her walls closing in on her. Tustin drove two hours from her home in Sacramento, California, to where she was met with the sheer vastness that is Yosemite National Park.
"My mind was so blown away I cried," Tustin said. "Standing at Glacier Point, I could see the half dome straight in front of me, almost like I could reach out and touch it, and it was that moment when I knew I needed to see them all."
Tustin has visited 19 national parks and started an Instagram page where she engages her 38,400 followers in updates and tips focused on her national park travels.
Tustin has always enjoyed traveling, but when faced with a global pandemic, she found that embarking on her national park extravaganzas was the safest way to travel while fulfilling her drive to experience new places.
"In the pandemic, we were restricted, and the only way we could travel was domestically in our country, the reason why national parks have become so busy," Tustin said.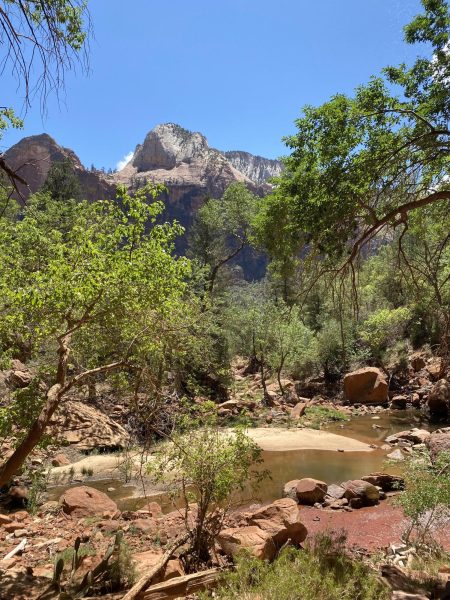 Zion National Park, established in 1919, has had an average of around four million visits per year, but when the pandemic hit in 2020, attendance dropped to about 3.5 million said Lindsey Baker, 34, an education and outreach coordinator at Zion.
"We were closed for a few months and didn't offer the same kind of operations that we normally do," said Baker. "But in 2021, visitors went up to 5 million, which is the biggest amount we've ever had."
So far this year, Zion has 15,000 to 20,000 visitors per day.
The increase in visitors, though exciting, poses challenges in trying to control the more populated areas in the park. Angels Landing, one of Zion's most popular trails, now operates on a permit system, something the park was looking into before the pandemic.
"National parks are a space where visitors can introduce themselves to the outdoors with the potential for a more guided or structured environment," Baker said.
Growing up in Iowa, Sheila Doherty, 56, a digital content creator, did not do a lot of hiking– but that changed when she entered the Grand Canyon.
The first time I went to the Grand Canyon, I was a teenager and I was like, this is just a hole in the ground," Doherty said. "But when I hiked it, it was way better from the inside, and I've been hiking when I can ever since."
Like Tustin, Doherty documents her travels to the 32 national parks she has been to on her Instagram page, entertaining her 15,700 followers.
Doherty has noticed that the increase in visitors at the parks does not only mean more people, but also more garbage.
"Hikers all talk about leaving no trace of being there, so it's sad to see people carving their names into things and people dropping trash on accident, or maybe not," Doherty said.
Along with garbage, more and more uneducated visitors have been getting injured. Some have taken strenuous hikes that are above their capability. Others have become dehydrated or approached wildlife.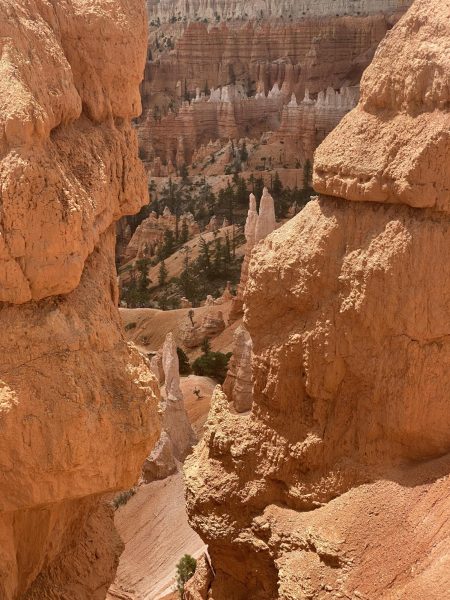 Bryce Canyon National Park, established in 1928, experienced a 70% increase in park visitors in the past decade, with about 6,000 visitors per day, and as the number of visitors rises, so do the injuries.
"This year we're seeing more significant injuries," said Peter Densmore, 36, a Bryce Canyon spokesperson. "Last year, we had 24 searches and rescues, and this year, we're already at 22."
In response, Bryce Canyon's preventative search and rescue team is stationed along the trails. The goal is to have rescuers intervening in situations that could become more serious and require a full search and rescue, which has helped the park manage and prevent injuries from occurring.
National Parks have brought beauty and light into the lives of so many visitors, especially during the pandemic– a time when many could not see the light at the end of the tunnel. And for providing a space of freedom and exploration, national parks have been rewarded with an increase in visitors.
"There's a power in the parks, the land does so much of its talking," Densmore said.