Lunchtime Scatterball at CHS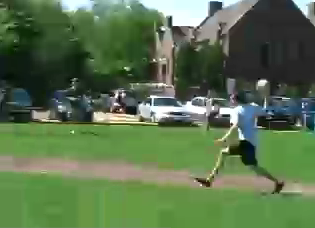 [quicktime]http://the-communicator.org/wp-content/uploads/2010/05/Backlawn-scatter-ball.mov[/quicktime]
Scatterball is the newest sport in Community High School's lineup, along with Hackey-Sack, Ultimate Frisbee, Four Square, and Basketball. The game is a simple sport that is easy to learn but can take a lifetime to master.
There are two rules to Scatterball: don't talk about Scatterball (To Dean Jen), and dodge!
David Soth-Kimmel started this recent outbreak by bringing in a regulation size dodgeball.