FIRST Robotics: Changing the Culture of America
For the Inspiration and Recognition of Science and Technology, or FIRST is an extracurricular organization creating a generation of students who are passionate about science. Founded by inventor and entrepreneur Dean Kamen–creator of the Segway— in 1989, the program has grown to include thousands of teams around the world.
The goal of FIRST, according to Kamen, is to change the culture of America. Kamen maintains that FIRST should get students to be as passionate and involved with science and technology as they are with sports. Kamen can often be heard saying, "FIRST is the only sport in which every student can turn pro. There's a job out there for each one of these kids."
http://www.youtube.com/watch?v=MnDgAk3tXUg&list=PLumXeb1tOUyQc2RkK6y79AoYeolF8HNMb&safety_mode=true&persist_safety_mode=1&safe=active
FIRST is organized into four levels of competition:  Jr. FIRST Lego League (JrFLL), FIRST Lego League (FLL), FIRST Tech Challenge (FTC) ,and  the FIRST Robotics Competition (FRC). These competitions are targeted to kids of varying ages, the highest of which being FRC for high schoolers.
All of these competitions place an emphasis on learning science and gaining familiarity with technology. In FRC, students work with mentors and coaches to build a robot in six weeks to compete.
Skyline High School FRC Team 3322 is just one of thousands of teams who will be working frantically over the next six weeks. Lead Mentor Quentin Weir says that, "We have a good handle on it this year. We got a lot of people trained before the season–both our new mentors and new students alike. And that's been crucial to how successful we have been in the first two week of build season."
The skills needed to be successful on a FIRST team aren't things that the average high schooler just knows though. According to Weir, "It starts with fundamentals–learning how to use the engineering tools, the mills and the lathes. It's really difficult to design robots until you have an understanding of how how you actually build your designs. The most successful students on the team are those that are highly motivated and interested. The students who get everything are the students who come in extra hours and spend the time and do the extra work and they want to do more. Those are the kids who do really well."
Acquiring skills like the ones FIRST offers is invaluable for high schoolers, many of whom are trying to make up their mind about their futures.  David Coupland, head coach of FRC Team 3322 and teacher at Skyline High Schools says, "In high school and in early college years, one of the biggest challenges people face is deciding what they want to study, and what they want to do for a career. This is a very hard thing to do. A couple hundred years ago there were maybe 20, or 30, or 50 careers. Most people just did what their parents did. Now there's thousands of careers and they come and go so fast. New things are always popping up. Anything that can help young people realize, 'This is my passion, I like this, I want to do this' is extremely valuable… 'Oh I like engineering! I like science, math and technology!' or, 'I don't'. Maybe you come on to the team and you realize that that engineering stuff isn't for you. That's also a valuable thing to know so you can get closer to whatever it is you do want to be doing."
Shailen Patel,  student captain of FRC Team 3322 has had the experience Coupland describes. "Being on the team has allowed me to experience new skills such as learning how to be on a team, learning how to program and how to meet deadlines. I learned how to program, but that's not the main thing I learned. I really think that knowing how to work on a team to meet a deadline is the best thing I've learned here" commented Patel. Patel added that, "Before FIRST, I wanted to be a doctor, and now I want to be an engineer. I think this happens a lot. It's not all engineering. Some people's futures have been determined through FIRST."
Perhaps Kamen's goal of changing the future and culture of America isn't so far fetched. The competitions are,  "pretty insane. There's a lot of energy. Everything is happening at the same time. There's matches going on and cheering. It's just crazy," according to Patel. Weir says that,  "I have a lot of fun at the competitions. My first year I had no idea what I was doing. When I got to the competition and we played our first match, all of the sudden it sort of clicked. I understood how excited the student, and the parents and the mentors are about seeing the robots achieve the challenges every year. It's really kind of awe-striking."
Maybe the idea of making science and technology as appealing as sports is possible. With passionate students, coaches and mentors, FIRST distinguishes itself as a supportive and fun environment that prepares students for the real world. Chances are your school or one near you has a team, so find out and get involved!  And who knows, maybe you'll cure cancer.
http://www.usfirst.org/roboticsprograms/frc
http://www.skylinerobotics.org/
About the Contributor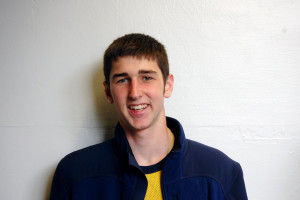 Graham Gerdes, Staff
Graham Gerdes is a new member of the Communicator staff. He enjoys taking to business owners and distinguished members of society and relating their stories...