UM Think Tank Proposes New Student School Board
It's no secret that Ann Arbor Public Schools have some big decisions to make in the coming years with a changing budget, which could leave students squirming to have their voices heard. An educational think tank at the University of Michigan, called rEDesign, might have a solution. They have drafted a proposal for a new Student School Board which aims to provide a platform for a "respected, legitimate student voice in policy-level district affairs", as the proposal states.
This Student School Board is just one of the group's seven projects. They currently have about twenty-five active members, including Ray Batra, who graduated from Huron High School in 2011 and is now a sophomore at the University of Michigan and co-president of rEDesign. He met with current AAPS School Board President, Deb Mexicotte, to talk about student voice while he was at Huron. "[It] was interesting because Ray had been struggling with a lot of these same ideas – what [the AAPS School Board is] doing wrong … . And it was interesting to be able to sit down with him and have those conversations, to describe to him that things are actually way more complicated than just, oh I've got a bad teacher, let's get rid of them," Mexicotte said.
The proposal, which was written up late 2011 and is in revision, would replace the current Youth Senate in favor of a "fresh start" that would hopefully generate more brand awareness. The Youth Senate was founded in 1998 under the Youth Empowerment Project, which "fosters youth voice and leadership", according to their website. Student representatives meet weekly to discuss relevant district issues. However, most of the Youth Senate's work seem to fly under the radar of most AAPS students. "I've heard of [Youth Senate], but I don't really know anyone that does it, and I don't really know what it does," said Hannah Shevrin, Community High School junior and representative on Forum Council.
The Student School Board would comprise 3-4 students each from Huron, Pioneer and Skyline, and 1-2 students each from Community, Roberto Clemente and Ann Arbor Tech. rEDesign is still trying to figure out the best method for selecting these students, and has been holding meetings to gather input from current AAPS students. As for the issues that the School Board would most likely take care of, Batra said "… [major] issues that affect students like block scheduling, like cutting busing, or like cutting arts, things like that."
Students on the School Board would only have an advisory role; their job would be to hear and convey student concerns, as well as solve inter-school issues, such as planning events. The Board would have its own officers: co-chairs, secretary, and a junior and senior representative that would possibly sit on the adult School Board, but with no voting powers. The proposal also mentions students meeting periodically with the Superintendent, as well as the Mayor to offer a student perspective on "relevant city issues". The Student School Board will also be provided with the same information as the adult School Board so that everyone stays on the same page.
Even with rEDesign's efforts, the students still need to be involved to make this happen. "If students aren't interested in doing this or aren't going to believe in it, then there's no way it's going to happen," said Alex Winnick, a sophomore at University of Michigan and rEDesign co-president with Batra.
rEDesign will most likely not be involved for the long-term; for one thing, its members will graduate from college every four years. "The point of our organization is really to generate new ideas and to get them started, but we're not here to be a long-term solution. But there will be an advisor [on the Student Board]. So that might be a teacher, a counselor, or something like that, basically who has an interest," said Batra.
Because the Student School Board will not have any executive power with the main administration, there is only so much it can do. As Mexicotte states, "People hate being brought together and being asked their opinion, and then if you don't take their opinion for something, they're like, why did you even bother, why are you wasting my time?" It may be possible for the Student Board to have more power, but as Mexicotte said, "…[If] we give students more than an advisory role, and they ask us to do something we really can't do, then what? Then we have to have this conversation, and it's very complicated."
However, most students agree that student voice is immensely important. "Students still have the best opinion and the best viewpoint of issues going on in their school that are facing students, because they are the ones that are facing the issues. And so just having this voice present during these meetings will always and constantly be of use and effective," Winnick said.
Shevrin agreed. "I think in the society we live in, the culture we live in, with budget cuts and changing policies … it's really important for the students to be heard and have a say in how their lives are being dictated."
From an adult administrative standpoint, however, student voice is not as pressing an issue at the moment. As to the relationship with students and administration, Mexicotte said that she "think[s] it has always been a struggle." She went on, "…[As] more things are required of administrators – more data, more achievement, more collection, more evaluation – there's less and less room to pay attention to student input."
"[The Student School Board is] an interesting idea, an idea that seems worth exploring, there are a bunch of different ways we can do it, but we also have just been struggling so much with just our budget issues and these various other issues that it hasn't been a top priority for us," said Mexicotte. "And while the board always has the option of deciding that it wants an ex officio student member, they just haven't gone in that direction. That hasn't been high on their interest list or agenda."
The proposal has been sent and reviewed by the AAPS administration, but it's hard to say what will happen to the idea. "If we weren't in such an existential crisis around public education, I think that it would have found some fairly quick buy-ins, some resources to be able to experiment with it, the time to help it grow – and that's not to say it can't happen now – there just has to be such a need for it that we feel compelled to put that time, put that effort and put that resource into it," Mexicotte said.
However, Mexicotte encourages contacting the administration. "[Everything] is on the table. We have to cut 16 to 20 million dollars on the budget," she said.
"We'll respond to anything that comes in. If we had a group of students from across the district who wanted a Student School Board – [and] we would see broad representation – then someone could champion it," she added.
Community High School's existing version of formal student government and representation is unique in the AAPS district. Instead of electing class officers every year, like other schools such as Pioneer and Huron do, Community has Forum Council, a platform to let representatives from each forum bring up issues and ideas surrounding school policy and events. Steve Coron, chair of Community's art department, volunteered to be the Forum Council Advisor for the past three years.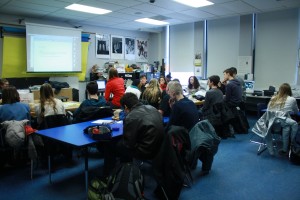 Recently, Forum Council has mainly dealt with major student events such as Multi-Culti and Spirit Week. Coron is open to letting the students use the platform for more activism, but adds, "If forum council operates only as a way to flush out information in a good consistent way, that's really important."
Many agree that the relationship among students and administration tends to be more open at Community than at other schools. "We like to think here that we have an open-door policy to our Dean, that students can go into her office and say, you know, we've got an issue here. We've talked recently in Forum Council about making that more formal," Coron said.
However, the same issue comes up around the need for student involvement. "But you can have all of those in place as formal vehicles, but they don't work unless students are invested in it, and to be honest with you, I'm not feeling that right now, and I think this has been happening here for a while," he said.
Shevrin thinks Forum Council "kind of has a reputation for being a joke, or at least it has in the past" but still thinks there will always be a need for some platform for student voice. "Whether students think there aren't issues to be addressed, like if they think there aren't any problems that need to be brought up, I'd say there always is, or always can be something that can be improved, and I think [a Student School Board would] be a really great idea," she said.
About the Contributor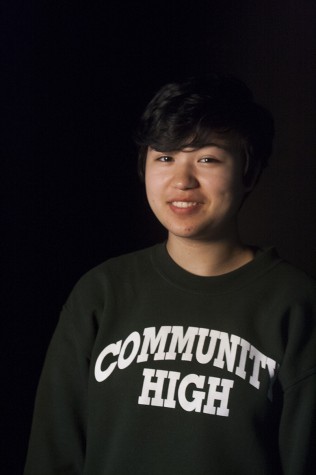 Sophia Camp, Co-Editor-In-Cheif
Sophia likes to write and take photos. She believes that every individual is as complex and multifaceted as herself, and she most likely would love to hear you talk about yourself.