Right To Work Meets Resistance In Washtenaw County
Last fall, Liberty Plaza was home to the waterproof tents, canvas banners and brightly painted signs of the Occupy Ann Arbor movement. But on Thursday, March 28, the day Governor Rick Snyder's Right To Work bill came into effect, the city park was filled instead with red-clad union supporters protesting the new bill, which they see as an attempt to decrease the power of unions.
Right To Work was signed into law on Dec. 11, 2012, but did not garner the necessary support from the Michigan legislature to take immediate effect. As a result, the bill underwent a 91-day waiting period and finally came into effect last Thursday. The new law makes paying union dues optional for workers in union-based jobs, essentially opening union opportunities to anyone qualified for the position. This new policy, while it may make more jobs more readily available, has been criticized by unions for hurting everyone's employment prospects. Without unions receiving supporting income in the form of dues, it becomes harder for them to give those workers who do pay adequate benefits.
"I don't believe [Right To Work is] going to affect us good [loyal] union members," said one member of the crowd, who spoke towards the end of the meeting. "Our members are going to keep paying. We don't care about whether their union security clause is gone; our members know that they got their [benefits]through the unions. But what it does do is [lessen] our ability to get out people for political rallies such as this one, to do labor walks."
Linda Carter, president of the Ann Arbor Education Association and one of the featured speakers at the rally, says that because of the loss of revenue caused by Right To Work, her union will only be able to partially support members who no longer pay dues."We will help them up to a point," Carter said. "However, if they get into some legal difficulty… they will not be able to get legal services. They would have to get their own attorney." And, as Carter pointed out, attorneys are expensive for the average public school teacher.
Bills similar to Right to Work have a long history–for example, the Taft-Hartley Act, passed by Congress despite a presidential veto in 1947, made it legal for workers to hold union jobs without actually being a member of the union. The act also made it illegal for employers to force workers into union contracts, whereas before the act, employees in union-based workplaces were required to be part of their union. A number of other recent laws which were seen by protesters as potentially harmful to workers include the 2011 Pricing Law, a bill that requires grocery stores to display a price only on the shelves in front of items, instead of tagging every individual item. The law cuts out the large amount of work required for the tagging, but in doing so it also cuts the number of people a grocery store needs to employ. A 6-week reduction of unemployment benefits in the state of Michigan also hurts workers.
According to Washtenaw County Commissioner Yousef Rahbi, who was present at the rally, Right To Work will not be going into effect in Washtenaw County for another ten years. Last week, just before Right To Work was set to go into effect, Rahbi and the other members of the Board of Commissioners approved a ten-year contract with five of the county's biggest unions that would maintain their current contract conditions for the next decade, circumventing Right To Work's changes to the laws on mandatory union dues.
"That's something that we're very proud of, and from a fiscal standpoint, it's actually a great thing, because we know what are costs are going to be," said Rahbi. "We know how to budget. And at the end of the day the union got a security clause, but for the county, for the taxpayers, this is the right thing to do."
Among the unions present at the rally were representatives from the Michigan Nurses Association, the Graduate Employees' Organization, the United Auto Workers and the Ann Arbor Education Association, as well as Washtenaw County residents who weren't affiliated with any union but still wanted to show their support. Leaders from each group spoke about their grievances against Right To Work and the importance of unions.
"For us, having bargaining is about our patients. It's about having what we need to take care of our patients," said MNA University of Michigan Bargaining Chair Katie Oppenheim. In 2011, MNA-affiliated nurses picketed the U of M to keep their their overtime and health care benefits from being cut or reduced, citing the frequent argument that well-rested professionals are better for patients than low-paid nurses working 16 hour shifts.
Carter talked about other important changes unions have made, like fighting for the rights of women in education. "Prior to 1970, if you were a female teacher here in the Ann Arbor Public Schools, you had to resign if you were pregnant," she said. "We don't have to do that any more,  but can you believe how archaic that would have been?… Those are the kinds of things that unions have done to make it better for all folks under that umbrella."
And now, these union supporters feel that they under attack by Right To Work. "Right To Work has nothing to do with jobs," said Georgi-Ann Bargamian of UAW, one of the main speakers of the rally. "It's meant to extinguish all democracy in the workplace by majority rule, and have the minority hijack worker rights in the workplace."
"This is a matter of taking away the voice of labor," added another union member.
Still, the union members and supporters in Washtenaw County are standing up against Right To Work. "We are here for the long fight and we have got to get together now, because the problem right now is funding," said Carter. "They're sending money into the higher ed folks, but K-12, we're suffering.They've got to find a better way for us to manage the money so that we are doing what we need to do all across the state. We're not giving up. We're going to fight."
"Budgets are moral documents," added Bargamian. "When we marched into Lansing protesting Right to Work, one of the Republicans legislators had his feet up on the desk… That's our desk! That's the peoples' desk! And these are our rights."
"The government didn't give us unions," said Rahbi.  "We fought for [it]. And you know what? We have to keep it! And in order for us to keep it, we have to fight for it. And fighting for it means going to Lansing like we did in December. It means protesting… It means demanding that we have accountability in Lansing and electing new people to represent us, because the people that are there now don't."
"I think that as we move forward, it's really important to remember that Right To Work is just temporary, that we're not going to stop fighting," said GEO steward Hannah Noel. "We're not going to stop fighting at the legislative level, we're not going to stop fighting in the streets. We're going to make our voices be heard and make sure that we're really caring about the workers, the laborers."
The rally ended with a few verses of Ralph Chaplin's union anthem "Solidarity Forever," sung to the same tune as "The Battle Hymn of the Republic." Carter, who started her union involvement as an AAPS music teacher, brought the lyric sheets and led the singing. Participants in the rally then made their way indoors to University of Michigan GEO offices, where the conversation about worker's rights, austerity and fighting back on a local level was continued over chips, cookies and punch.
About the Contributors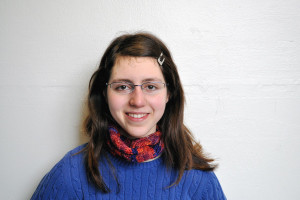 Susan LaMoreaux, Writer
Susan LaMoreaux is a duel-enrolled CHS senior, and takes many of her classes outside the building. She participated in Communicator during her junior year, and is thrilled to be back! When not doing schoolwork, Susan enjoys art, writing, cooking and baking, and walking her dog. She hopes to someday make quilts and write a graphic novel.
Molly Kraus-Steinmetz, Copy Editor
Molly Kraus-Steinmetz is a feminist, a socialist, and a copy editor, and has been working on the Communicator since 2011. She likes writing about theater and politics, and has a deep and abiding love of properly used semicolons. Her plan for the future is to work on an organic farm commune while studying critical gender theory, allthough she is open to other possibilities.