DeWoskin Halloween Dance is a Great Success
On Friday October 25, The DeWoskin forum hosted their annual Halloween Dance. After weeks of being heckled by DeWoskin forum members to purchase tickets, kids from Community High gathered in costumes to celebrate the festivities.
Beloved Community High teacher and forum leader, Judith DeWoskin has been hosting the Halloween dance with her forum for at least 25 years. DeWoskin notes the fact that other forums have since tried to host dances, usually with little success. She isn't exactly sure why her forum's dance has been so successful in its longevity. "I'd like to think that the magic ingredient is my forum and their energy," DeWoskin said, "I tell them they have to start dancing and they have to be in there and they have to have the energy. My husband and I know how to host a party, so I'd like to think that they've learned this from me."
Junior Juliet Gustafson attended the DeWoskin Halloween Dance for the third time this year and came dressed as Katniss from 'The Hunger Games', along with her boyfriend who was dressed as Peeta. She said, "It's really chill, it's fun, … everyone kind of dances with everyone, which is nice." Since Community is an alternative school, lacking typical high school athletic teams and most traditional dances, the Halloween Dance gives Community students a more laid back way to connect within the school. DeWoskin said, "I think students need to have a big party and something to look forward to, and I think Halloween is the perfect time, people love to dress up in costume, people love to be ridiculous, and it's a perfect time for all of that." The Halloween theme and the quaint atmosphere added to the casual mood. Gustafson said, "Everyone is so accepting. It's fabulous. At one point everybody was in a big circle and there were just people dancing in the middle." She added, "You feel really comfortable just letting go."
The dance was contained within the second floor and the Craft Theater, with staff and chaperones blocking entrances to other parts of the school. Students lingered on the ledge to socialize and catch their breath while others danced in the dimly lit theater. Funds raised at the Halloween Dance went toward the DeWoskin forum. If students purchased tickets ahead of time from a DeWoskin forum member, they were charged $3, at the door they were charged $4 if they showed up in a costume, and $5 if they didn't.
DeWoskin has had an overall positive experience hosting the Halloween Dance and hasn't run into problems with students in years. She said, "Kids really behave, they have a good time, they dance their little feet off, go home all sweaty, and everybody's happy."
About the Contributor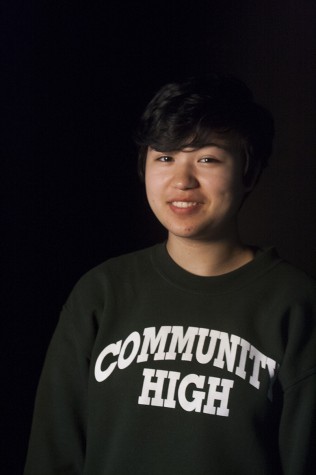 Sophia Camp, Co-Editor-In-Cheif
Sophia likes to write and take photos. She believes that every individual is as complex and multifaceted as herself, and she most likely would love to hear you talk about yourself.