Calculations and Creativity
"Math tests" and "fun" do not always go hand and hand for high schoolers. Yet on February 4, 2014, dozens of students across the Ann Arbor Public Schools chose to take the annual American Math Competition [AMC].
Unlike an everyday math test, everybody who took the AMC did so voluntarily. Except for those who get the highest scores, there is no prize. Instead, most of these students have come to experience a difficult exam that is nothing like the math portions on standardized tests like the ACT and SAT, and to see how well they can do. Freshmen and sophomores take the AMC10, while juniors and seniors take the AMC12. The tests have some of the same questions, but some of the AMC12 questions are more advanced.
While Community High School offered the AMC this year, Pioneer High School made an effort to encourage as many students as possible to participate. As a result, the Pioneer cafeteria was crowded with students across all grades, and the school was forced to print sixty extra copies of the test. Among these participants was Sanelma Heinonen, a Pioneer sophomore. Though it is only her second year of high school, Heinonen is already experienced with the AMC.
"I took it for the first time in 8th grade," explained Heinonen. "I was taking geometry [at Pioneer], so the teachers were encouraging us to take it, and I was like, 'why not' … That was scary, man!" she recounted. "I stood in line with a bunch of high schoolers!" Heinonen's early exposure to the test paid off the next year, when she won a prize for being the highest scorer on the AMC10 at Pioneer.
While most students' AMC journeys end at the initial test, the students who are among the highest scorers are invited to take more tests. "The AMC helps students qualify for the [USA] Math Olympiad team," said CHS math teacher Anne Thomas. "Students who do well on the AMC qualify for a second round, which can qualify them for the team."
This second round is known as the American Invitational Mathematics Examination [AIME], and unlike the AMC10 and AMC12, can only be taken once. Only those who do particularly well on the AIME advance to the USA Math Olympiad. "If you make it to the Math Olympiad team, you get to meet the President!" Thomas said. She made it clear, though, that this is not an easy feat. "You have to do really well, though. The top 1%, if that."
Even qualifying for the AIME, let alone the Math Olympiad team, is extremely difficult, even for students who did quite well on a national level. "Immediately after I took the test, I thought I did well," said Heinonen. She had calculated that if all the questions she had written in were correct, then her combination of correct answers and blanks would be enough for her to advance to the AIME. "Then when I got home, I found three stupid mistakes!" she recalled. Though Heinonen no longer thinks she will advance, she is not unsatisfied with her performance. "I think I did decently well," she said.
CHS junior Griffin Roy felt similarly, and chose to focus on his individual growth rather than his results in comparison to the nation. "Comparatively to last time I took it, I thought it went very well," said Roy. "I don't expect to move on to the next section, but I'm happy I took it."
While students and teachers agree that the questions on the AMC are very difficult, they feel that this difficulty is a good thing. "I like that [the questions] are challenging," said Thomas. "The mathematics are not particularly advanced," she noted, observing that the concepts needed to solve the problems typically only go up to Algebra II. "You don't need calculus," she said, "but you're applying the concepts in a way that's very challenging.
"It's a challenge for some of my strongest students in math," said Thomas. "I like that they have a chance to be challenged on a test."
Heinonen liked that the questions on the AMC go far beyond memorizing equations. "I think they really require you to know math, instead of to just do it, and plug in equations," she said. Heinonen feels that understanding "why stuff works," and not just how it does, is crucial in understanding math.
"I feel like [the AMC] shows people that there's more to math than what you do in school," said Heinonen. "It exposes you to different types of things."
Roy enjoyed that the AMC required him to think outside of the box. "It got progressively harder," he admitted. Still, he added, "I like that I was challenged to think creatively about the problems."
For students who are looking for challenge and innovation in their math test, the AMC will be available again next year!
About the Contributor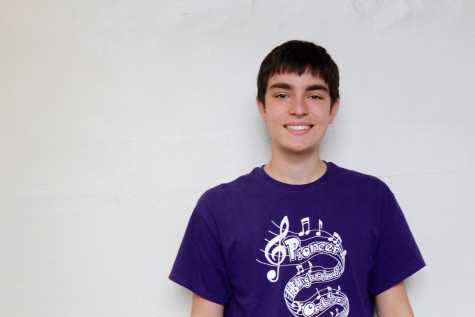 Matty Hack, Editor-in-Chief
Matty is a CHS senior and this is his third year on the Communicator Staff. He is a co-editor-in-chief and can often be found correcting pedantic punctuation errors. Matty also enjoys birds, playing violin and piano, science and petting his cats. He is pro-Oxford comma.