Michigan's Brief Legalization of Same-Sex Marriage
For Community sophomore Faith Hawver-King, the day was magical. On Saturday, March 22, Hawver-King's parents got legally married in the State of Michigan. One of 74 same-sex couples to get married in Washtenaw County, Beth Sherman and Karen Hawver enjoyed the brief legalization of gay marriage with their children and loved ones.
"That whole weekend, from Friday to Sunday, we were all just so excited and happy," Hawver-King said. Hawver-King was one of many CHS students and staff members — past and present — who were affected by the Saturday marriages.
On Friday, March 21, the ruling was handed down from Federal District Court Judge Bernard Friedman, which struck down Michigan's ban on same-sex marriages, and came as a welcome surprise to LGBT supporters everywhere. The 2004 ban was approved by 58 percent of the vote, but the tide has now turned to favor gay marriage.
"In attempting to define this case as 'the will of the people,' state defendants lost sight of what this is truly about, the people," said Judge Friedman. That powerful line was the opening sentence of the conclusion in his ruling.
Following the historic decision, four County Clerks's offices opened specially on Saturday morning to marry same-sex couples. Around 300 couples in Ingham, Muskegon, Oakland, and Washtenaw counties were married.
The pro-same-sex marriage ruling was one in a string of decisions from the Federal bench, and Michigan has joined Virginia, Utah, Texas, and Oklahoma. In all of those states, their statutes prohibiting gay marriage have been struck down by Federal Judges.
These rulings have probably come faster than the the Supreme Court thought they would. The Court, which invalidated the Defense of Marriage Act last summer (United States v. Windsor), ending Federal discrimination of same-sex couples, left marriage up to the states.
Michigan's suit (DeBoer v. Snyder), which was brought by April DeBoer and her partner Jayne Rowse, originally was just about joint adoption. DeBoer and Rowse wanted to adopt each other's children and be a family unit, a right which any opposite gender couple is entitled to. In 2012, Judge Friedman recommended they extend their suit to Michigan's ban on gay marriage.
After around 24 hours of legalization, the U.S. 6th Circuit Court of Appeals issued a temporary stay until an appeal from the State defendants was heard by the court. The Governor of Michigan, Rick Snyder, said the State did not wish to diminish the value of the Saturday marriages and recognized their legality. But, for some reason, legal same-sex marriages are different from opposite sex marriages in Michigan, because the Governor also said no state benefits would be extended to the newlyweds.
It is worth noting that one of the most vehement opponents to gay marriage in Michigan, the state Attorney General, Bill Schuette, started his reelection campaign the week following the ruling.
On Friday, March 28, the United States Attorney General, Eric Holder, announced that the Federal government would recognize the Saturday marriages.
Gay marriages in Michigan have been temporarily stopped, but that's what it is: temporary. With the number of states recognizing same-sex marriages doubling in 2013, it seems Governor Snyder and Mr. Schuette are on the losing side.
The joy which Hawver-King, her family, and countless others experienced on that Saturday is irrevocable, and will–most likely–be legally enshrined sooner rather than later.
About the Contributor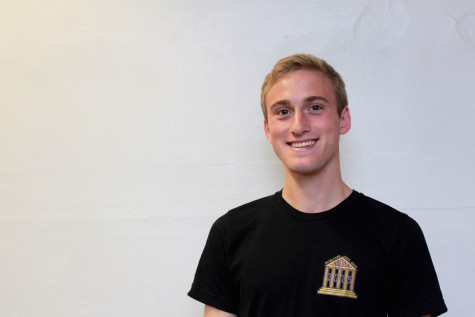 Matthew Ferraro, Editor-in-Chief
This is Matthew's third year on Communicator, and he's eager to get down to work. Communicator ranks among his favorite things, with crew and the oboe as well. This year he is a co-editor-in-chief.