Shankar Tucker in Ann Arbor
In Ann Arbor, a city mixed with different cultures, a new spice was added into it: fusion music.
On Oct. 18 at the Power Center, Shankar Tucker held a performance showcasing his clarinet skills in Indian classical style music called Carnatic music. The concert was held by the Amma Center in Michigan, which is a charity organization that provides feeding programs, nature programs, and holds youth groups and prayer sessions.
Tucker began playing clarinet at the age of 10 and went on to study classical music at the New England Conservatory in Boston. His interests in improvisation and jazz drew him into Indian classical music. With help from a grant by the Frank Huntington Beebe Fund,  he modified his clarinet to be favorable play Indian classical music and traveled to India to learn it.
"My musical standpoint has completely shifted. Instead of thinking Western notation and chords or counting to 8 or 16," Tucker said. "I think teentaal or aadhi taalam." Teentaal and aadhi taalam are talas, or set rhythmic patterns.
He is most famous for his YouTube videos called "ShrutiBox," which are of his compositions played by him and many with featured singers and instrumentalists. In his first video, "Lemongrass," he is the only musician. On four simultaneous tracks he plays the clarinet, piano, guitar and a drum. It is a blend of Carnatic and soft jazz.
At the concert, he opened with instrumental pieces featuring Raashi Kulkarni on keyboard, Jomy George on tablas and drums and a new electric guitarist.. As the show went on, he was joined by singers Vidya and Vandana Iyer and Rohan Kymal.
The song that was most welcomed by the audience was "O Re Piya/Rolling in the Deep"– a mash-up between Indian classical and Adele's "Rolling in the Deep" with clarinet improvisation to ice the cake of the song. Most were Indian songs set to the background of western-style music. All of the songs were composed or arranged by Tucker himself.
The proceeds from the concert go towards Ammachi Labs' Women's Empowerment Programs.
About the Contributor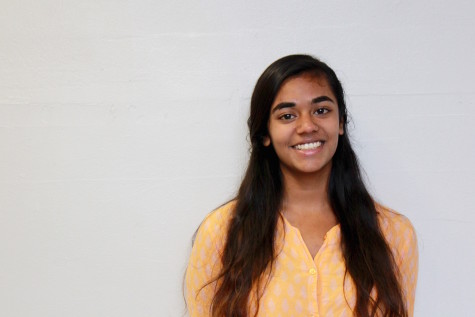 Anurima Kumar, Editor-in-Chief
Anurima is a senior at Community, and this will be her third year on the Communicator Staff. She is a co-editor-in-chief, and enjoys playing the clarinet and piano, dancing and photography.