Jazz Program Prepares Winter Concerts
Jazz director Jack Wagner hoards posters. In addition to paperwork and instruments, the jazz room is home to a copy of every concert poster he has ever made.
"I have a giant stack in my office," said Wagner. "I probably have between 30 and 40 varieties from over the past few years."
The posters, which feature photos of jazz students with added dialogue, had a new face this year: Bob the skeleton. Standing next to Bob on posters that can be seen in the Forum Bulletin, around Community and throughout Ann Arbor is Liz Stern, Community High School science teacher and lifelong musician.
Stern, who occasionally sings during her science classes, has also been a member of The Cadillac Cowboys, a local country swing band, for 13 years. Wednesday's winter concert marks her first foray into jazz performance, where she will sing alongside Jazz IV ensemble Free Radicals.
"Everyone keeps asking if I'm nervous," Stern said. "Maybe I should be. But I'm not."
The event is scheduled as two concerts, one starting at 6 p.m. and a second at 7:30 p.m. Admission is free and audience members are free to come and go at any time. The two Winter Concerts feature 11 combos composed of students from all four jazz classes.
"We have a great mix of kids who have only been playing jazz for three or four months… to kids that are out doing professional gigs and everything in between," Wagner said. "It's great to hear the development and how the kids improve over the years."
Wagner began forming ensembles in the spring and said many groups worked together throughout the summer months. This fall, he chose concert repertoire, a process that took several days. Wagner said he considers potential pieces from the perspectives of both an educator and an audience member; it is important to him to select songs that fit into a curricular sequence and make for an engaging concert.
"I want [the concerts] to be full of variety," he said. "We've been doing a lot of skill building throughout the semester and we've been trying to synthesize what we've been doing in the semester and… bring it into an artistic presentation. We want to be showing some new skill but it has to be heartfelt, emotional, fun and full of good rhythm."
"[Wagner] has had us preparing for this concert since October," sophomore pianist Emily Ojeda said. "It's been constant rehearsals."
"I get pretty tough on them but I think it's worth it in the end when they can have a really strong show and feel good about themselves," Wagner said.
In jazz, that alone is not enough.
"It's about nuance and style… unless you go home and internalize it you're not going to get it," Wagner said. "You have to have that inside your body, your head, your concept, your inner ear and then it will start to come out of your  instrument."
Trumpet player Gabe Kleer said he develops improvised solos by studying the underlying chord changes and combining his knowledge of music theory with inspiration from listening to versions performed by professionals. What comes out varies from day to day and Kleer is looking forward to his first performance of the school year.
"I have an idea in my head but the note choices and rhythms are always different," he said. "I learn the chords and then start putting phrases together so I just have to know the arpeggios, the scales, get some patterns and just mix it up."
"When you solo you have nothing in your mind," Ojeda said. "You just play whatever comes to your fingers."
Join the jazz program on Wednesday, Dec. 17 at 6 and 7:30 p.m. in Craft Theater for the Winter Concerts. Admission is free and the shows will run consecutively.
About the Contributor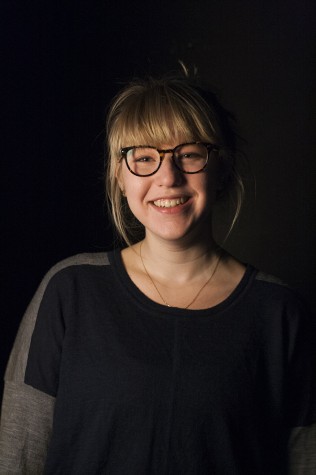 Ella Steiger, Co-Editor-In-Chief
Ella Steiger is a senior at Community entering her third year on the Communicator Staff. She is Co-Editor-In-Chief and currently spends 47% of her life doing work for Communicator. The other 53% of her life is evenly split between playing classical guitar, studying retinal organization and regeneration of Zebra fish, and marathoning Tarantino movies.